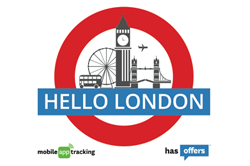 "The decision by MobileAppTracking to locate a EMEA headquarters in London is very welcome. We are excited to have this company join our leadership council and help set the standard in mobile attribution" - Head of Mobile, IAB UK, Alex Kozloff
SEATTLE, SAN FRANCISCO and LONDON (PRWEB) November 26, 2013
Mobileapptracking.com, a HasOffers' product, announced today the opening of their first European office in London. The expansion comes as the leader* in mobile app attribution analytics looks to accelerate growth and improve support for its flourishing client base across the EMEA. MobileAppTracking is already trusted by top European mobile advertisers including Spotify, Supercell, WilliamHill and XYRALITY, to name just a few.
Why Europe? The data speaks for itself – and it's loud and clear.
MobileAppTracking:
● Serves half of the top grossing apps in the iTunes store.
● Currently has over 700 customers throughout 36 European countries.
● Already accredits 29% of current revenue to Europe.
● Experiencing a 220% per year growth in its European business.
● Projects that 71% of its revenue will come from its global market in the next two years.
Twin Co-Founders Lucas and Lee Brown, as well as CEO Peter Hamilton, are thrilled to put down roots in the "Digital Hub" of Europe, known for its strong connection to brand and retail advertising along with major agency representation. The company has set up shop in London's Media Village which is located in West End, neighboring a dynamic area of digital companies and agencies that are creating a host of businesses within the mobile space.
Giuseppe Bellanca joins the HasOffers team as Director of Business Development to oversee EMEA operations. Bellanca worked for the German competitor adeven, and is now fired up to establish MobileAppTracking's presence in London.
"MobileAppTracking has done an incredible job building a standard solution for advertising attribution, and I believe the European market couldn't be more ready for it," Giuseppe Bellanca. "So far I've been incredibly impressed by the team and their passion, and I'm already realizing how fortunate I am to be a part of it."
Watch the London Launch Video!
"Attribution analytics for mobile apps is spreading like wildfire around the globe, in particular in Europe, and our unbiased attribution solution is very popular among data protective customers," said CEO of HasOffers, Peter Hamilton. "Our mission is to help advertisers work directly and effectively with their publishing partners, along with access and visualization of their data that gives deep insight into campaign performance. I expect to receive more client feedback and a much higher level of accountability now that we're in London, and our team is definitely up for the challenge."
James Connelly of Fetch (A London Mobile Ad Agency) said, "It's great having MAT in our own backyard, we have worked closely with the team there over the past 18 months and utilised their technology in a number of our client apps which continues to deliver the insight and metrics we require to optimise our campaigns efficiently. It's a solid platform with great scale."
Head of Mobile, IAB UK, Alex Kozloff, said, "The decision by MobileAppTracking to locate a new EMEA headquarters in London is very welcome. We are excited to have this fast-growing company join our leadership council and help set the standard in mobile attribution for the UK."
Global Product; EMEA Standards-Ready.
MobileAppTracking was built with a European audience in mind:
● U.S.-EU Safe Harbor: HasOffers is fully compliant with the U.S.-EU Safe Harbor framework to allow our users to protect their customer data.
● 24/7 Customer Support: HasOffers is launching 24/7 support for all customers outside the U.S. to ensure that international customers will get the support they need during their business hours. This service is available immediately.
HasOffers' presence in Europe opens up new opportunities not only for job applicants, but for companies in Europe that want to understand how their marketing performance drives revenue. HasOffers will work to provide the best software and services possible for its European customer base by on-boarding talent locally.
About MobileAppTracking
MobileAppTracking.com (MAT) created by HasOffers, is one central, unbiased platform for mobile app marketers to attribute app installs, in-app engagement, and purchases back to marketing sources (such as social networks, publishers, and mobile ad networks). By implementing MAT, app developers never have to install another SDK to attribute conversion to new advertising partners. MAT is integrated with over 280 major ad networks and publishers along with Google, Facebook, and Twitter. It has been named the 63rd fastest growing company by Inc 500, backed by Accel Partners with Rich Wong, and has more than 120 employees across four offices worldwide, with headquarters in Seattle, WA. Learn more about the product at http://mobileapptracking.com/uk/ or the company at http://www.hasoffers.com/about.
The MobileAppTracking team will be at Mobile World Congress in Barcelona, Spain from February 24 - 27, 2014. Visit them at stand 8.1J34 or email sales(at)mobileapptracking(dot)com to schedule an appointment.