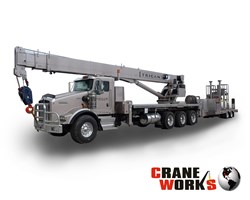 We understand what the oil & gas industry needs are, we speak Oil and Gas.
Houston, Texas (PRWEB) December 04, 2013
The fast-paced and ever growing oil & gas industry has found a new favorite supplier for boom trucks and an assortment of well service equipment located right in its own backyard. CraneWorks Inc. (http://www.crane-works.com) dba Crane Works of Houston, Texas (HQ), has quickly become a leading supplier to numerous upstream energy companies around the globe from its prime Houston location – the energy capital of the world. The latest group to join the loyal rank of CraneWorks customers have found a level of convenience and variety of equipment that are not only rugged and dependable, but more so, a level of customer service unsurpassed in the industry.
CraneWorks of Houston features some of the most recognized brands of boom truck cranes and well service equipment from the world's leading manufacturers including Terex, Manitex, Palfinger, IMT, Fassi and Comach. The company also provides a level of customization for just about any need through its own line of custom-engineered and in-house fabricated equipment. "We understand that the oil & gas industry needs dependable, heavy duty equipment in some of the most remote locations," said Keith Ayers (CEO). "We work with some of the best manufacturers of cranes, trucks and parts manufacturers and pride ourselves on providing exactly what the customer needs either through sales, rentals or custom fabrication." Service companies routinely call upon CraneWorks of Houston to provide Frac Iron trailers, body load trucks, BOP & Injector trailers, coil tubing cranes, wireline cranes and custom rig-ups. For its efforts, CraneWorks of Houston has been recognized by these several manufacturers for outstanding customer service, parts sales, performance and support. CraneWorks of Houston has also been named Dealer of the Year by Palfinger Crane AG of Austria for the second year in a row. CraneWorks has worked hard to become the largest Palfinger Crane dealer in the United States and North America.
In addition to supplying equipment for the oil and gas industry, CraneWorks of Houston also specializes in sign cranes, materials handling equipment, telescopic service cranes and carries a number of brand new and low-mileage, equipment-ready trucks for immediate delivery. With one of the largest inventories of crane parts in North America, the company lives by the motto "any parts, anywhere, anytime" providing clients with such products as man baskets, radio remote units and parts, wire rope, LMI systems and parts, crane mats and much more. Utilizing multiple locations and same day shipping on in-stock orders, Crane Works of Houston helps customers get what they need and minimize downtime. With locations in Houston (HQ) Denver, Kansas City and Calgary, A.B., the end result is a growing clientele who have come to rely on a one-stop shop for all their crane and equipment needs.
# # #