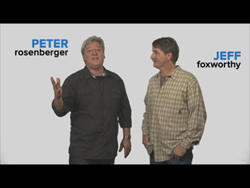 If you take your Christmas list to the medical supply store, you might be a caregiver!
Nashville, TN (PRWEB) November 28, 2013
Caregiving is a subject Peter Rosenberger knows only too well. As the sole caregiver for his wife of 27 years, who experienced a 1983 horrific car accident, Peter's helped navigate his family through a medical catastrophe that (to date) includes 78 surgeries, multiple amputations, 60 physicians, 12 hospitals, 7 insurance companies, and $9 million in health care costs.
"There are experts, and then there's Peter Rosenberger," states AARP TN director of community outreach, Tara Shaver. "Peter left expert decades ago, and went straight to leading authority on the issues facing today's caregivers. He gets right to the heart of the challenges and offer practical advice with the calm assurance of someone who's faced relentless battles-and that's why we recruited him to write a monthly blog for us.
When authoring his new book, "Wear Comfortable Shoes - Surviving and Thriving as a Caregiver," Peter coined the phrase, The DELTA DOCTRINE after hearing a Delta flight attendant share what has become the overarching message of his caregiver outreach. Rosenberger simply instructs fellow caregivers to do what flight attendants tell passengers to do in the event of cabin pressure loss: "Put your mask on first before assisting others—it's mighty hard to help someone when you are gasping for air yourself!"
With practical advice and a lifetime of experience, Peter's book and his weekly radio show also contains the unexpected bonus of his ability to laugh and get others to join with him —even while dealing with brutal circumstances.
"One of the most engaging factors of working with Peter is his terrific sense of humor," adds Shaver. "His amazing comedic flair is in stark contrast to the tragic issues faced by his family." AARP TN director of communications, Karin Miller, agrees. "He transitions seamlessly from deep empathy to hilarious moments that cause us to burst out laughing. That comedy and compassion, along with his vast reservoir of wisdom, serves as drink of cool water to the weary and parched hearts of his fellow caregivers."
"Clowning around once while speaking about this subject, I did my best Jeff Foxworthy imitation and delivered a one-liner of, "If you have a professional carpet cleaner on retainer—you might be a caregiver," said Rosenberger.
Others agreed it was funny, and said, "You and Jeff ought to do some of those—it would really connect with folks."
Inviting long time friend, Jeff Foxworthy, the two men got together and, with the help of AARP, they made a video that's giving laughter and the message of community to caregivers.
Watch the video and the hilarious outtakes.
"We caregivers can easily become bogged down in what I call the 'Three I's,'" adds Rosenberger. "We lose our independence, our identity, and we become isolated. Taking on that isolation factor, we wanted to let others know that although it is a lonely walk, they are not alone.
"With a few jokes, the extended hand of experience, and the community of AARP, we seek to strengthen caregivers one weary heart at time."
Peter W. Rosenberger is the president of Standing With Hope, an evangelical prosthetic limb outreach to West Africa founded by Peter and his wife, Gracie. Authoring two books and numerous articles, Peter also speaks regularly about caregiving issues and hosts a radio show on Nashville's 1510 WLAC. He and Gracie have been married for 27 years, and they have two sons.
Jeff Foxworthy is one of the most respected and successful comedians in the country. He is the largest selling comedy-recording artist in history, a multiple Grammy Award nominee and best selling author of 11 books. Widely known for his redneck jokes, his act goes well beyond that to explore the humor in everyday family interactions and human nature, a style that has been compared to Mark Twain's.
About AARP
AARP is a nonprofit, nonpartisan organization, with a membership of more than 37 million, that helps people turn their goals and dreams into real possibilities, strengthens communities and fights for the issues that matter most to families such as healthcare, employment and income security, retirement planning, affordable utilities and protection from financial abuse. They advocate for individuals in the marketplace by selecting products and services of high quality and value to carry the AARP name as well as help our members obtain discounts on a wide range of products, travel, and services. AARP does not endorse candidates for public office or make contributions to political campaigns or candidates. Practical resources and community waiting for caregivers at http://www.aarp.org/caregiving.