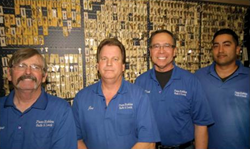 "We live, work and play locally and we care about our community." - Rick Horlings, owner of Paso Robles Safe and Lock
Paso Robles, CA (PRWEB) November 27, 2013
The holiday season is in full swing and that means lots of extra shopping, out of town guests and maybe a bit of traveling. During this special time of year, the folks at locally-owned Paso Robles Safe & Lock would like to ensure patrons remain safe and secure during the hustle and bustle, so owner Rick Horlings is offering a few helpful reminders.
Paso Robles Safe & Lock offers 24-hour residential, auto, industrial and commercial locksmith services in San Luis Obispo County.
Home safety tips

Avoid displaying gifts that may be seen from a window or doorway
Have packages delivered to a neighbor if unable to be home to receive them
Packages left on porches or doorsteps are easy bait for thieves and may draw attention
Keep shrubbery near doors and windows trimmed for better view
Always lock home doors and windows, even when away for a short time
Keep a porch light on at night and consider installing a motion detector light
Update door & window locks
Shopping Safety
Lock car doors, close windows, lock merchandise or packages in car trunk
Don't leave loose change lying around – thieves are known to break car windows for just a handful of change
Shop with a friend or ask a store employee to help carry packages to the car
Have keys in hand when approaching vehicle
Check the back seat and around car before getting inside
Locally owned and operated since 1979, Paso Robles Safe & Lock provides residential, automobile, commercial and industrial services throughout the North San Luis Obispo County including Paso Robles, Atascadero, Templeton and San Miguel.
In addition to having a store front in Paso Robles, the company has three fully equipped vans enabling technicians to be prepared for any and all emergencies or scheduled auto, residential, commercial and industrial solutions from re-keys, replacing worn or old locks to security system installations.
"Don't be fooled by companies that list their business as local but instead are contracted out of state," said owner Rick Horlings. "We live, work and play locally and we care about our community. All of us at Paso Robles Safe & Lock are licensed locksmiths and we take our job very seriously – we are reliable, trustworthy and ethical and we get the job done."
No job is too big or too small for the technicians at Paso Robles Safe & Lock. Locked out or need a lock replaced? Locksmiths are standing by 24 hours a day 7 days a week to assist with any and all auto lock needs as well as high security locks, deadbolts, cylinders and safes for residential or commercial needs.
Knowledgeable and experienced, Paso Robles Safe & Lock is trusted by local businesses – from stores, gas stations and schools, to military bases, hospitals and medical institutions – and maintains memberships in the local chambers of commerce as well as the Safe and Vault Technicians Association and the Associated Locksmiths of America.
"We do everything as far as locksmithing," said Horlings. "We stay current with continued education; we are licensed, bonded and insured."
Safety is priceless – and the technicians at Paso Robles Safe & Lock want to ensure that all of their neighbors are safe during the holiday season and throughout the years ahead by offering a free home or office security survey. Give them a call today to set up an appointment and gain valuable advice on how to keep your property more secure.
For more information call (805) 238-7115 to reach a technician 24 hours a day, 7 days a week or stop by 1424 Spring Street in Paso Robles.
Paso Robles Safe & Lock
1424 Spring St
Paso Robles, CA 93446
(805) 238-7115
Online press release written, edited and distributed by Paso Robles SEO, web design, marketing and advertising company Access Publishing, 806 9th St. #2d, Paso Robles, Ca 93446, (805) 226-9890.