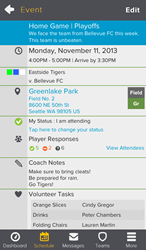 Now that I have Korrio's app, I can't imagine being without it. -Tom Gross, Administrator for DC Stoddert
Seattle, WA (PRWEB) December 03, 2013
Korrio (korrio.com), a cloud-based service for organizing and sharing youth sports, announced the launch of its free mobile app, available for iOS and Android mobile devices (Microsoft coming soon). The Korrio app is available for download for Korrio members today.
Korrio is just easier
Making everyone's sports life easier is the goal upon which Korrio was founded. Up until now, Korrio's cloud-based service has delivered on this goal for sports organizations and teams around the country. Now Korrio is available to coaches, managers, parents and players, in the palm of their hands.
Korrio's mobile app was designed from the outset as a companion to the Korrio service already in use by sports organizations. It takes advantage of all the valuable information already in the system so teams and busy sports families don't have to re-enter and manage the information themselves. Gone are the days of managing phone trees and email distribution lists.
The Korrio mobile app keeps you up to the minute with schedules, event RSVP, directions, volunteer assignments, surface type, uniform color, volunteer assignments – even team rosters with phone and message icons to tap on for a last minute carpool request. Everything you need in one place. It even updates automatically so your Korrio app is always current. Game cancelled at the last minute due to weather? No problem. The built-in alert system sends text messages, emails, or robo calls to everyone on the team. Now that's easy!
If your sports organization already uses Korrio, you get all the advantages of a modern sports experience with no up charges or fees. Korrio makes things easy, integrated, safe and mobile. For busy people on the go, these are the things that matter most. Now, with mobile, everything you need is at your fingertips – in a clean and intuitive layout so you can see what you need at a glance.
Connected like never before
"The Korrio mobile platform is a key communication tool for our club administrators, coaches, and parents. It provides real-time information about your family's schedule and gives coaches and managers the ability to contact team members without having to access old-fashioned phone trees. It saves us time and frustration daily," said Mike Yeatts, Executive Director, Prince William Soccer.
Korrio CEO and Founder, Steve Goldman said, "Korrio's mobile app is an integral part of our product vision since sports are played where computers aren't, yet everyone has their mobile device with them when traveling to their sports events."
"Korrio continues leading the way for modern sports automation technology," Goldman said. "Not only is this going to make the life of team managers and coaches easier, but this is a big WIN for parents and players – they'll never miss a thing."
"With the Korrio mobile app, the tools I need are literally in the palm of my hand. As an age group commissioner with 40 teams, the entire schedule appears on my dashboard. With a few swipes, I can find a coach's cell phone from wherever I am. I can contact entire teams with email and text if need be - in seconds, from anywhere. Now that I have Korrio's app, I can't imagine being without it," said Tom Gross, Administrator for DC Stoddert.
About Korrio
Korrio is a cloud-based service for organizing youth sports. Korrio unifies and amplifies the sports life of every athlete. Korrio provides the tools required for a contemporary sports experience and elevates the level at which sports are played by automating the things that get in the way — like registration/payment, team formation, rosters, scheduling, communication and web hosting.
Korrio is easy, safe, integrated, and mobile. Korrio is transforming sports at every level for the 100 million+ Americans who participate. Visit us at korrio.com, Twitter, Pinterest or Facebook.
Media Contact
Steve Goldman
steve(at)korrio(dot)com
206.333.2401