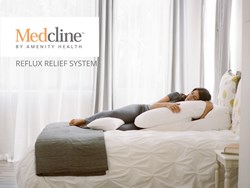 San Diego, CA (PRWEB) November 27, 2013
Hoping that acid reflux sufferers won't get caught by the IRS's Flexible Spending Account's (FSA) "use it or lose it" clause, Amenity Health, Inc. is now able to process FSA Debit Cards through the Medcline™ website – http://www.medcline.com. This ease-of-purchase capability enables those suffering from nighttime acid reflux to purchase the Medcline™ Reflux Relief System utilizing unused funds from FSA, Health Reimbursement Account (HRA) and Health Spending Accounts (HSA).
Medcline™ is the only comprehensive sleep positioning system available on the market today that combines two strategies known to be effective at relieving nighttime reflux – sleeping at an incline and on one's side. An independent clinical study of Medcline™ conducted by The Medical University of South Carolina showed an 8x reduction in esophageal exposure compared to a traditional bed wedge and a 38% reduction in reflux episodes throughout the night. Medcline™ was also found to be 2x as comfortable as a traditional bed wedge. Amenity Health offers Medcline™ as an alternative treatment option of nighttime acid reflux to taking prescription and over the counter medications, as well as invasive surgical procedures.
The Medcline™ Reflux Relief System is a Class I Medical Device listed with the FDA and cleared for patient use. The system also meets the IRS Guidelines to be classified as a FSA-approved medical expenditure. Specific questions about eligible purchases within specific plans should be directed to each respective plan's administrator directly. FSA participants who are not issued debit cards are also able to purchase Medcline™ products and submit for reimbursement through established plan procedures.
Flexible Spending Accounts (FSAs), also known as "Section 125 Plans" or "Cafeteria Plans", were developed as part of IRS Section 125 to provide employees with tax relief for their un-reimbursed medical and dependent day-care costs. FSAs enable employees to utilize pre-tax dollars to save Federal, FICA, and, in most cases, state taxes when paying for eligible expenses not covered by traditional insurance plans. Some FSA and HSA plans offer a special debit card to access tax-favored spending accounts.
About Amenity Health
Amenity Health, Inc., founded in 2010 by Carl Melcher, MD, provides innovative, therapeutic sleep solutions to help people get quality, restorative sleep, while enjoying a higher health-related quality of life. Current product offerings include the Medcline™ Reflux Relief System, designed for nighttime GERD (acid reflux) sufferers and the Bump Nest™ Pregnancy Pillow, which provides relief from common pregnancy-induced ailments, including Sciatica, Restless Leg Syndrome, lower back pain, and Symphysis Pubic Dysfunction.