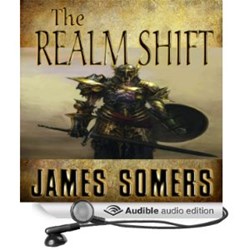 The Realm Shift's intrigue is second only to its action!
(PRWEB) November 27, 2013
SciFi Publishing is pleased to announce its newest Science Fiction and Fantasy audiobook, "Realm Shift", written by bestselling author James Somers; now available on Amazon, Audible and iTunes. http://amzn.to/IdQXHj.
About Realm Shift
The strangest thing about Ethan's first encounter with a demon was not that he could see it, but that the demon could not see him....Hunted by these malevolent spirits and the Warlord allied to them, Ethan struggles to stay alive in the midst of a growing rebellion within his homeland. As war erupts, he must flee to the white walled city of Emmanuel in order to fulfill the long held prophecy of Shaddai's Deliverer or die in the attempt. At Every turn, enemies, both seen and unseen, conspire to kill Ethan before he realizes and unleashes the awesome power of the Realm Shift.
What People are Saying

5.0 out of 5 stars "The Realm Shift's intrigue is second only to its action!"
5.0 out of 5 stars "The Realm Shift doesn't just draw you in, it sucks you in! The story is full of mystery, adventure, danger and inspiration. I highly recommend it!"
5.0 out of 5 stars "The Realm Shift is written in a grand mythic type of storytelling reminiscent of Tolkien's Lord of the Ring Trilogy. It grabs the reader from the get-go and takes you on an intense ride through its thrilling, unstoppable trajectory!"
5.0 out of 5 stars "The Realm Shift is spiritual warfare as you've never read it before. An awesome book!"
5.0 out of 5 stars "James Somers is one of my favorite authors. His pacing, creativity and the unique spiritual perspective he brings to his stories never disappoints."
Realm Shift has been ranked in the Top 100 for Science Fiction and Fantasy Epic and Metaphysical genres.
About the Author
James Somers is the author of more than a dozen Sci-fi and Fantasy novels available on Kindle including: The Descendants Saga, The Serpent Kings Saga, Percival Strange, Perdition's Gate, and The Realm Shift Trilogy. He has also written several Bible studies for Kindle including: "What's So Great About Salvation?" and "What Does it Mean to be Born Again?"
Upcoming novels include sequels for The Descendants Saga, A prequel trilogy for Descendants and more! In addition to writing, James serves as the Pastor of Ozone Baptist Church in Rockwood, Tennessee and also works in Knoxville as a Surgical Technologist. He is married and have five children. James is always open to questions and comments from readers at http://www.jamessomers.blogspot.com where updates can be found on his novels.
About Sci-Fi Publishing
Sci-Fi Publishing enables authors to bring their work to life, creating powerful audiobooks for Sci-Fi fans. We partner with authors from audiobook production to marketing so they can continue to focus on their passion, creating new and amazing worlds.
For more information about us and to discover other great scifi audiobooks, visit us at either http://www.scifi-publishing.com or http://www.scifi-audiobooks.com.