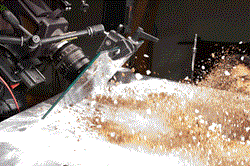 SuperEstudio discovered new ways to create special effects that feel warm and tactile.
Buenos Aires, Argentina (PRWEB) November 29, 2013
Buenos Aires design + animation company, SuperEstudio has created an evocative Network Identification package for National Geographic Channels International. SuperEstudio was tapped by parent company Fox International Channels to create a branding campaign that captures the essence of Nat Geo, bringing to life the power of nature.
With the goal to "unite emotion with the physical world to ignite the senses", Florencia Picco, VP Branding & Creative of Fox International Channels; and Mariano Barreiro, Branding Director of Fox International Channels, chose SuperEstudio to execute this series of network ID's centered on a filmic, fully live action approach.
SuperEstudio rolled up their sleeves, literally, using raw materials like glass, coffee grounds, marbles, even edible cake pearls to capture the visceral feeling of real physical environments. The variety of filming techniques add to the dreamy, abstract environment. The results are "surreally beautiful," said Ezequiel, SuperEstudio's Creative Director. "They wanted a real logo interacting with real things… we gave them an acrylic logo interacting with everything but the kitchen sink."
The campaign is comprised of several treatments to express the unique and varied programming of Nat Geo. Clever combinations of materials yielded surprising results. In one ID, SuperEstudio suspends the logo in a field of debris, achieving an evocative look using materials that were (surprisingly) almost entirely edible - including caramels, coffee grounds, sugar, flour and honey. Scattered across flexible plexiglass, crew members shook the surface giving the elements flight. The results create a magical effect, as "rocks and dirt" levitate around the Nat Geo logo.
The most technically challenging ID was making earth-like materials fly around the logo as though caught up in a storm. Yet without the use of wind. SuperEstudio constructed a box that could be affixed to the camera and spun as loose bits of glass and other particles collide from one side of the box to the other as the center of gravity shifts, creating a whirlwind across and around a static Nat Geo logo.
By choosing not to rely on traditional motion graphics, "SuperEstudio discovered new ways to create special effects that feel warm and tactile tone that computers still cannot emulate," said Florencia Picco of Fox International Channels. Each of these new ID's also finds a way to remain "real, pure and direct, while at the same time inspiring and beautiful," she continued, "capturing the National Geographic spirit of exploration."
National Geographic Channel International
Emanuele Madeddu, VP Creative & Consumer Marketing NGCI
Florencia Picco, VP Branding & Creative FIC
Mariano Barreiro, Branding Director FIC
SUPERESTUDIO is an Animation and Design company in Buenos Aires that develops innovative and strategic brand identities, promos, show packaging, commercials and audiovisual productions. Specializing in motion and design, SuperEstudio's team of directors, designers and animators have been pushing creative boundaries since 2002.
BCM is dedicated to brilliant communications for entertainment, media, advertising, and consumer brands worldwide. Based in New York and Los Angeles, BCM represents top creative agencies that transform strategy into engagement.