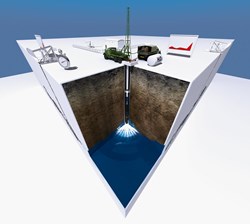 We are very pleased with the degree of professionalism and expertise shown by the Propell's crew and we are looking forward to evaluating the results over the next several months
Houston, TX (PRWEB) November 26, 2013
Propell Technologies Group, Inc (Propell) announces that it has completed the treatment of nine wells with the Company's licensed Plasma Pulse Technology in the Permian Basin of West Texas. The wells were located near Snyder and Abilene, Texas.
The company intended to treat 10 wells but due to a major winter storm they were unable to complete the treatment on the 10th well and it has been rescheduled. The nine wells treated are back on pump and initial results are expected within a few days.
The Plasma Pulse treatments began on November 13th with two wells in the Bluff Creek Sand in the Bluff Creek Ranch Field in Shackleford County, Texas. Thereafter, five wells, four producers and an injection well, were treated in the Clear Fork, San Andres and Glorieta formations in the Sharon Ridge Field located in Scurry County near Snyder, Texas. The producers included two multiple (10 & 7 stage) pay zones, two shallow (1800 feet) producers and an injection well.
The last two wells the Company treated were completed on November 22nd. They were both recently drilled to a depth of approximately 1860 feet near the Abilene Airport area of Taylor County. One of the wells was completed with a Frac with slick water and 155 sacks of sand and the second well had been perforated but not fractured.
When contacted, Bluff Creek Production, LLC's Managing Director, R. Gary Call said, "We are very pleased with the degree of professionalism and expertise shown by the Propell's crew and we are looking forward to evaluating the results over the next several months". Propell treated seven wells for Bluff Creek Production, LLC, two in Shackelford County and five in Scurry County.
"Our crew did a fantastic job working with the operators, rig and wireline crews and we thank all of them. We now look forward to reviewing the initial treatment results," said Mr. John Huemoeller II, Propell's President and CEO.
About Propell Technologies, OTC Markets: PROP. – Through its wholly owned subsidiary Novas Energy USA, Propell is the exclusive licensee of patented "Plasma Pulse" technology in the United States, which has been shown to significantly improve existing well recovery and production volumes. For more information, visit http://www.propell.com or call 713-227-0480, 1701 Commerce Street, Houston, Texas 77002.
SAFE HARBOR STATEMENT
This news release contains forward-looking statements within the meaning of the Safe Harbor Provisions of the Private Securities Litigation Reform Act of 1995. These forward-looking statements are often identified by the words "believe," "anticipate," "expect," "intend," "estimate," and similar expressions. All statements in this document regarding the future outlook related to Novas Energy USA and Propell are forward-looking statements, including but not limited to the initial results from the treated wells and the timing and release of future data. Such statements are based on the current expectations, beliefs, estimates and projections of management and are subject to a number of risks and uncertainties that could cause actual results to differ materially from those described in the forward-looking statements including the risk that the future data will not be as favorable as the initial results. Additional uncertainties and risks are described in our most recently filed SEC documents, such as our most recent annual report on Form 10-K and quarterly report on Form 10-Q. For a more detailed discussion of factors that affect Propell's operations, please refer to the Company's Securities and Exchange Commission filings. Copies of this filing are available through the SEC website at http://www.sec.gov. All forward-looking statements are based upon information available to us on the date hereof. Propell undertakes no obligation to update this forward-looking information