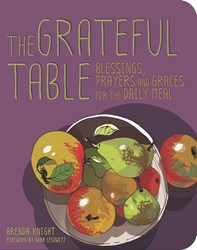 "A heartening collection. Worthy of quiet reflection and sharing."—Judy Ford, author of Every Day Love
(PRWEB) November 26, 2013
Imperfect Spirituality, a site dedicated to living happier, healthier, and more peacefully, featured several gratitude-inspiring quotes from Brenda Knight's The Grateful Table: Blessings, Prayers and Graces for the Daily Meal.
Polly Campbell shares these quotes just in time for Thanksgiving, and remarks that "not only is it fascinating to read how some of our most famous personalities and deepest thinkers show grace and gratitude through their words, but it also reminded me again, of how we can all find moments, no matter what the circumstance, to be grateful." Thanksgiving might be the holiday associated with gratitude, but The Grateful Table makes it easy to give thanks every day of the year.
Saying grace is one of humankind's loveliest traditions. The Grateful Table offers 365 beautiful blessings for every day of the year. From 18th-century prayers for Thanksgiving to devotionals from the world's wisdom traditions and sincere expressions of thankfulness by Alton Brown, David Foster Wallace, Jack Kerouac, Shirley MacLaine, Dave Eggers, Sheryl Crow, Neil Gaiman and Alice Walker, The Grateful Table demonstrates the way to begin every meal with an open heart.
"Good food is an amazing blessing. Whenever you can sit down at a table, eat food that is extremely delicious, and are surrounded by people you love...it's: Wow, life is good." —Alicia Keys
What People are Saying about The Grateful Table:
"Brenda Knight reminds readers of The Grateful Table that giving is an important part of gratitude practice. Part of the proceeds from this terrific little book will go to BOSS, Building Opportunities for Self-Sufficiency, a California network offering housing and support services."
—Retailing Insight Magazine
"My grandparents taught me an old French-Canadian proverb: Anyone who doesn't expression their gratitude for all their gifts on a daily basis is a thief. Brenda Knight's new collection reinforces these notions of gratitude, gifts and daily practice. Keep it on the table of your choice and refer to it whenever you are tempted to think you've accomplished everything on your own."
—Phil Cousineau, author of Burning the Midnight Oil, The Painted Word, and The Art of Pilgrimage
Brenda Knight grew up in Point Pleasant, West Virginia, and learned how to appreciate life from her mother, Helen. After a brief career as a high school English teacher, she began working for HarperCollins, and is now a twenty-year publishing veteran. She is also the author of the American Book Award-winning Women of the Beat Generation, Rituals of Life, and Wild Women and Books. She is an avid gardener and seed saver, and volunteers for the American Cancer Society as a counselor for the newly diagnosed. She teaches at the San Francisco Writer's Conference and leads workshops on "Putting Your Passion on Paper." The founding editor of Viva Editions, a division of Cleis Press, Brenda lives in the San Francisco Bay Area.