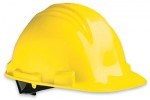 Toronto, ON. (PRWEB) November 26, 2013
WalkersClub Canada, the Canadian abatement supplier based out of Stoney Creek, Ontario, announced the launch of a safety awareness campaign to celebrate over 20 years in business. The purpose of the campaign is to highlight the importance of both workplace and personal safety for those who work in the construction industry. By means of their company blog, WalkersClub Canada will offer insights and suggestions in the form of posts on how construction professionals and contractors can make the most out of safety equipment and safe work habits.
The goal of this campaign is to position the company as more than just a retailer of equipment, and more of a resource for those who could benefit from workplace safety tips. WalkersClub Canada offers a variety of products ranging from basic safety wear to much larger devices, such as portable generators for on-site power. Although the company offers a versatile selection of these items, they plan to use their knowledge of safety gear in a more educational way so that even those who are not their customers can learn to be safer at work. The company aims to continuously build their relationship with their customers, by using this milestone (over 20 years in business) as a means to show their devotion to the community, rather than their own interests.
Despite the wealth of information and attention given to construction safety, there are still many who overlook the need to practice safety. The issue exists among employees as well as employers, making it difficult to identify who's at fault. The lack of safety is a major concern for companies who employ youth workers. A lack of experience and limited time to train these young workers increases their injury risks, especially among young men.
The manufacturing and construction industries have the highest rate of injury in Canada - the former with a rate of 24 injured workers per 1000 and the latter with a rate of 25 injured workers per 1000. Although the injury rates have declined considerably over the years, the injuries that take place today are often preventable if both employees and employers make safety a priority. As a successful supplier of abatement equipment, WalkersClub Canada aims to make an impact on those who work in the construction industry, and serve as a contributing force in the reduction of workplace injuries.
About WalkersClub Canada
WalkersClub Canada is an abatement supplier based out of Stoney Creek, Ontario. For over 20 years, the company has supplied construction workers - both employed and self-employed - with the equipment and tools they need in order to complete their work. They offer a wide range of safety gear for various purposes, including soundproofing material, HEPA vacuums, adhesives, disinfectants, and alarm locks. The company plans to expand its expertise as retailer, with the hope of providing educational tips to those who work in the construction industries.
WalkersClub Canada
428 Millen Rd #10
Stoney Creek, Ontario
L8E 3N9
905-664-6075