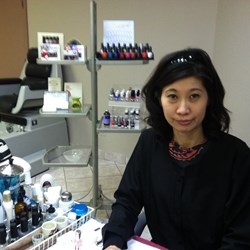 It is even more important for the elderly and those suffering from chronic conditions to watch their exposure to toxic chemicals found in nail polish.
Orland Park, Illinois (PRWEB) November 26, 2013
A strict gluten-free diet is critical for someone with Celiac disease and non-celiac gluten sensitivities. "Anything that touches the body can also touch food and end up in the mouth," began Diana Sourek, MS, CNC, Certified Gluten Practitioner, and manager of New Vitality Health Foods, Inc. shared. "It is possible to ingest trace amounts of gluten from a lip product or from hand-to-mouth ingestion from a hand cream that contains gluten. This becomes a valid concern because gluten allergies are molecular and sensitive to even the tiniest of triggers."
Common non-edible items that can contain gluten include and potentially cause a gluten reaction include:

Stamps & envelopes
Toothpaste
Lipstick
Makeup
Lotions
Hairspray & Shampoo
Medications & Vitamins
Detergents
Pet Food
Play dough
When the body views wheat or gluten as an allergen, it may become inflamed and experience difficulty with nutrient absorption, both of which can lead to skin issues. Sourek explained, "Dermatitis herpetiformis, acne, hives, psoriasis and atopic dermatitis are common allergic reactions to wheat. Identifying a wheat or gluten allergy and incorporating a gluten-free diet, as well as gluten-free skin/body product regime can be the missing link to clear skin. The importance becomes obvious why utilizing gluten-free skin, hair, lip and body products are in order to avoid a topical reaction."
The first thing consumers should look for are ingredients that have been derived from wheat, barley, rye or oats (oats contain avenin, a gluten derivative). Good resources for finding out if a product is gluten-free are websites such as celiac.com and glutenfreern.com. Sourek reinforced the importance of reading labels even lip balms designed for children. These products can contain not only gluten derived products, but saccharin as well.
Consumers seem to be drawn to and recognize the health benefits of utilizing natural and organic skin and cosmetic products. These products are often free from chemicals and unnecessary additives, making them an easy choice to purchase. Coming to light is the importance of using chemical free and organic nail polish. Many grocery store nail polish brands, including some brands found in nail salons, contain three ingredients that have become known as the "toxic trio". Dibutyl phthalate, toluene, and formaldehyde have been linked to severe health risks especially for those have compromised immune system or women who are pregnant.
Erin Hartrampf, certified nail technician and owner of Elite Nail Care, a nail service that specializes in using all natural, organic, and gluten-free nail care and polishes explained, "Many of my clients are diabetics, have allergies or suffer from other autoimmune conditions and can appreciate that they are non-reactive to the all natural and organic products I utilize." Traditional nail products are made from harsh chemicals that can lead to drying of the nail cuticle, nail discoloration and skin reactions such as cracking. Water based and organic polish has been proven to last longer and comes in an array of colors.
Elite Nail Care uses only nail care products that are gluten, toxic, and cruelty free.
Hartrampf also offers an Elite Mobile Service for homebound, hospital and nursing home residents in the Orland and Tinley Park area. "It is even more important for the elderly and those suffering from chronic conditions to watch their exposure to toxic chemicals. Because of the holistic nature of the products I use, these consumers can enjoy the therapeutic benefits of a hand massage and nail care service without the worry of exposure of harmful chemicals."
Sourek concluded, "Incorporating a completely gluten-free world is the surest way to ensure maintain our overall health, not only for the Celiac population but for the growing population of consumers who are gluten intolerant. This is becoming an obtainable reality."
About New Vitality Health Foods, Inc.:
Established in 1988, New Vitality Health Foods, Inc. provides Chicagolands' largest selection of allergy-free foods that have met their high standards for taste, quality, and nutrition. New allergy-free foods are introduced weekly. They also carry frozen foods, vitamins, herbs, homeopathic, aromatherapy, body care, pet care, household items and much more. New Vitality features only the highest quality, effective nutritional supplements to support their customers' total health. New Vitality Health Foods, Inc. is located at 9177 West 151st Street, Orland Park, Il 60462 (708) 403-0120 http://www.newvitalityhealthfoods.com.