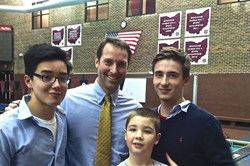 I hope to increase awareness of autism and raise funds for kids and their families who are affected by the illness.
Hunting Valley, Ohio (PRWEB) November 27, 2013
Gabriel Hansen is not only a great swimmer. He's a good brother with a big heart.
The University School senior is turning his passion for swimming into raising funds for Autism Speaks, a leading non-profit organization that funds research for the prevention and treatment of autism, as well as a cure. Gabriel's nine-year-old brother, Michael, has the disorder.
Gabriel, a four-year member of the University School swim team and a district qualifier, is organizing the first annual Swim for a Solution Invitational on Saturday, November 30, at University School's Hunting Valley Campus (2785 SOM Center Road, Hunting Valley, Ohio, 44022). The general public is invited to attend the meet, which begins at 10:00 a.m. Warm-ups are from 8:15-9:45 a.m.
Swim teams from University School, Chagrin Falls, Laurel, Hathaway Brown, Magnificat, St. Ignatius, and Gilmour will participate. Swim meet participants are limited to these teams due to liability issues. The meet will not be scored.
General admission is $5.00. The entry fee for each swimmer is $5.00. All proceeds, including concessions, will benefit Autism Speaks.
"This is an issue that is obviously close to home for me," said Gabriel. "My goal is to increase awareness of autism and raise funds to bring hope to those kids and their families who are affected by the illness."
Autism spectrum disorder is one of the fastest growing disorders in the U.S. According to the Centers for Disease Control, an estimated one out of 88 children eight years of age has the disorder. It is characterized by difficulties in social interaction, verbal and nonverbal communication, and repetitive behaviors.
Gabriel, a resident of Mayfield Heights, Ohio, said he values the teamwork that comes from being a member of University School's swim team. "I believe that the invitational will do the same for the participants because they are supporting such a worthy cause."
University School Swim Coach Brian Perry '89 is the Meet Director. Senior Andrew Huang, a member of the US swim team, is assisting Gabriel with the event.
About University School:
Founded in 1890, University School is an independent day school, educating boys in kindergarten through grade 12. The school's mission is to develop promising and motivated boys into accomplished and independent young men who aspire to make a difference in the world. University School has two suburban campuses in Cleveland, Ohio: the Shaker Heights Campus for boys in kindergarten through grade 8, and the Hunting Valley Campus, which is home to students in grades 9-12. Visit http://www.us.edu for more information.