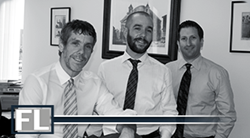 (PRWEB) November 25, 2013
The partners at Farar & Lewis LLP, have been practicing personal injury law for many years, and know that the Thanksgiving holiday leads to increased traffic on the roads. The increased traffic, due to families meeting relatives, leads to an increased risk of car accidents. The attorneys at Farar & Lewis LLP are issuing travel safety tips for holiday drivers, in anticipation of this.
Weather – Throughout the country, the fall season can be giving way to winter. In the Northeast, this holiday season, meterologist's expect a Nor'easter, which will result in icy and dangerous road conditions. As a result, the partners at Farar & Lewis LLP encourage travelers to take weather into account when planning their trip.
Drinking and Driving – Celebrations often lead to drinking. The issue is when travelers decide to drive home. Joel Farar had this to say, "Many times we see personal injury accidents occur as a result of the negligence of drunk drivers during the Thanksgiving season. When in doubt, drivers should pull over to a safe location, rest, and stay overnight, instead of trying to drive."
Fatigue – Often times, travelers go long distances to see family members. Many drivers will be heavily fatigured from long drives – especially if they decide not to rest after the Thanksgiving celebration with their family. Many people are hurt, or catastrophically injured, because someone falls asleep at the wheel.
Regardless of the reason, many personal injuries occur during the Thankgiving season. With Black Friday starting as early as Thanksgiving Day, it's important for travelers to proceed with great caution.
About Farar & Lewis LLP
Farar & Lewis LLP is a Los Angeles personal injury law firm, dedicated to helping victims obtain financial compensation for their injuries. With millions recovered, Farar & Lewis LLP have handled some of the largest automobile and personal injury accidents. Recognized as a leading personal injury law firm Farar & Lewis LLP hold an impressive amount of awards: Million Dollar Advocates Forum, TOP Rated Lawyers, and SUPER Lawyers.