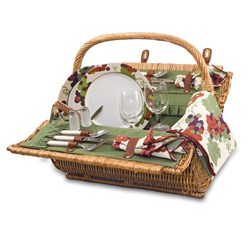 Picnic Moments offers to its customers high quality picnic baskets for sale.
Sunnyvale, CA (PRWEB) November 27, 2013
Picnic Moments has been offering to its customers a wide selection of picnic baskets, backpack picnic baskets, picnic coolers and picnic accessories at discounted prices. For this holiday season the company is increasing its selection of picnic baskets by adding the modern and stylish designs of Picnic Time.
"Picnic Time is a highly regarded manufacturer of picnic baskets and picnic accessories. Its products are unique and feature elegant designs. By adding Picnic Time products to our collection, we will offer to our customers more choices to their holiday shopping," said Diana Garcia General Manager of Picnic Moments.
The new products include: The Barrel Picnic Basket; this original barrel-shaped basket is fully equipped with service for two. The Pioneer Moka Basket for two is a lightweight and durable basket; it features a rattan framed and fully lined interior. The Windsor Willow Basket is a traditional suitcase style basket with a deluxe picnic and coffee service for four.
Picnic Moments wants to be the one stop online store of discount picnic baskets and picnic accessories for the shoppers during this holiday season. With these new product lines, the online store offers to its customers a great selection of picnic baskets for sale and picnic accessories at bargain prices.
PicnicMoments.com was created to provide only high quality picnic baskets, backpack picnic baskets, picnic coolers and picnic accessories while ensuring an exceptional customer service. For more information visit http://www.picnicmoments.com.