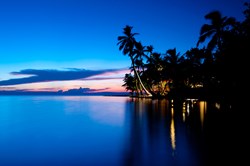 "Belize is still one of the world's most underpopulated countries, so people thinking of retiring here have the rare luxury of choosing the type of geography and community that suits them best."
San Ignacio, Belize (PRWEB) November 29, 2013
As the number of retirees moving to Belize continues to climb each year, The Lodge at Chaa Creek is offering a few tips to make what could be one of the most important decisions in life a success.
A recent Huffington Post article "Why An Increasing Number Of Expats Are Discovering Belize" describes an exodus of retirees to the northern areas of Belize. But Chaa Creek Marketing Administrator Roberto Harrison said the trend is nationwide, with many people choosing the Cayo District of Western Belize to settle.
"Belize is still one of the world's most underpopulated countries, so people thinking of retiring here have the rare luxury of choosing the type of geography and community that suits them best," Mr Harrison said.
"Whether you're looking to live in a retirement community, out on your own ranch with perhaps a few horses, on a sandy beach along the Caribbean Coast or one of our many cayes, the lifestyle choices are almost endless," he said.
According to "A Place in the Sun", an online overseas property guide, until relatively recently the numbers of foreign retirees living in Belize numbered only a few dozen, but that number is now growing dramatically.
However, Mr Harrison said that Chaa Creek has been helping people retire to Belize, where English is the official language, for decades
"People coming here on holidays or on one of our all-inclusive Belize vacation packages, often ask our advice on how to relocate here, once they see how beautiful it is. Since we're so familiar with the Government of Belize's retirement incentives which are really quite generous, we can offer information on the practicalities of moving here, and can help people find land, workers and help navigate through the legalities of moving here.
"We've always said that the best approach it is to come for a visit and then take some time to really discover Belize in a relaxed fashion to check it out, and take a bit of time to get to know the land and people. And the best way to do that is in a low pressure, holiday situation."
Mr Harrison said hiring a car is easy in Belize, and given the small size of the country, some 180 miles long by 70 wide, it's easy to set up a series of day trips to take in what makes Belize special.
"Many people have used Chaa Creek as a base to discover Belize, and our all-inclusive Belize vacations packages are a very affordable way to explore the inland rainforest, Maya archaeological sites and interior attractions and then stay at one of our sister resorts of the Caribbean Coast or Cayes.
"By the time they've finished, they have an excellent idea of what Belize has to offer, and in a surprisingly affordable manner," he said.
Mr Harrison said that to be approved for the Belize retirement incentive program, applicants must be 45 years old or more, and have a non-Belizean based income. Individuals then receive a variety of tax and residency breaks including exemption from all taxes on income and receipts.
There are also other incentives. All import duties and taxes on personal and household effects are exempt when first imported into Belize. Qualified Retired Persons (QRPs) can also own rental properties, and any dependants are included as part of their move. They can also conduct business within the country for business activities that are largely outside Belize.
"I'm not an expert, so prospective retirees should enquire further. However, it's a very generous scheme, and when you consider the lifestyle choices and quality of life, you can see why more and more mature people are discovering Belize.
"And with Chaa Creek having grown with Belize over the last 30 years, we have a lot of experience and a great network of colleagues, friends and associates to assist any of our guests in getting the knowledge they need to make an informed decision while having a wonderful Belize vacation," Mr Harrison said.
"To me, that's a pretty winning combination for a successful decision ," he added.
The Lodge at Chaa Creek is an award winning eco resort set within a 365 acre private nature reserve in Belize.
ENDS