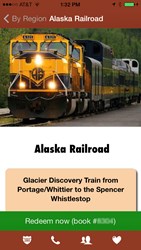 All the 2-for-1 deals are loaded on to your phone/iPad. Simply present the screen image to the merchant at check-in.
Anchorage, AK (PRWEB) November 26, 2013
Travelers to Alaska can see more, do more and spend less with Alaska TourSaver's exclusive app for iPhone/iPad. 
The app is just like the acclaimed 2-for-1 TourSaver book: more than 115 2-for-1 deals and more than $20,000 in 2-for-1 deals around the state. With the app there is no need to carry the coupon book—all the 2-for-1 deals are loaded on to your phone/iPad. Simply present the screen image to the merchant at check-in.
When travelers order the app online at the iTunes Store (https://itunes.apple.com/us/app/toursaver-alaska-2014/id737024331?mt=8), they can start saving right away. There is no shipping cost and all of the 2-for-1 coupons are loaded immediately on to the phone/iPad. 
Cost for the 2014 Alaska TourSaver app is $99.99—and travelers can get their investment back when using just one coupon! Check out the Alaska 2-for-1 deals included in the app:
1. 2-for-1 Luxury Train Tour Anchorage-Denali (value $436)
2. 2-for-1 Deep Sea Fishing for halibut and salmon in Seward (value $335)
3. 2-for-1 Anchorage Hotel accommodations (value $199)
4. 2-for-1 Flightseeing in Misty Fjords from Ketchikan (value $269)
5. 2-for-1 Hotel accommodations in Ketchikan, Juneau, Skagway, Cordova, Kotzebue…more
6. 2-for-1 Helicopter flightseeing/hike at Denali Nat'l Park (value $525)
7. 2-for-1 flightseeing in Glacier Bay National Park (value $198)
8. 2-for-1 Whale watching in Juneau (value $159)
9. 2-for-1 Bear viewing in Hoonah (value $120)
10. 2-for-1 Zipline in Ketchikan (value $189)
For a complete list of 2-for-1 Alaska TourSaver deals, click here (http://www.toursaver.com/alaska-deals).
"From Ketchikan to Kodiak to Kotzebue, we've included the "best of the best" in this year's TourSaver," said co-publisher Scott McMurren. "We live in Alaska year-round, so the folks in the TourSaver are our friends and neighbors," he said. 
More must-see 2-for-1 offers:
In Fairbanks:
2-for-1 Riverboat Discovery 
2-for-1 Gold Dredge 8
In Juneau:
2-for-1 flightseeing over the Juneau icefield
2-for-1 Zipline
In Wrangell-St. Elias National Park
2-for-1 Kennicott Glacier Lodge
2-for-1 Glacier hike on the Root Glacier
In Anchorage:
2-for-1 Anchorage Museum
2-for-1 Alaska Native Heritage Center
In Wrangell:
2-for-1 Jetboat tour up the Stikine River
In Lake Clark National Park:
2-for-1 7d/6n wilderness adventure (includes air fare from Anchorage!)
In Katmai National Park:
2-for-1 day tour to the Valley of the 10,000 Smokes
This year's TourSaver is loaded with cruises, flightseeing, fishing trips, cultural experiences and admissions to make your Alaska adventure a memorable one. Smart travelers order the TourSaver early and lock in their trips. Another advantage of the TourSaver app: you can start making reservations right away—there's no waiting for the book to arrive in the mail.