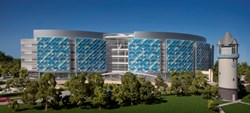 Our partnerships with referring physicians are key to our success.
Wilmington, DE (PRWEB) November 26, 2013
Nemours/Alfred I. duPont Hospital for Children (N/AIDHC) is proud to announce that it has been named a 2013 Beacon of Excellence Award winner.
Nemours/Alfred I. duPont Hospital for Children Beacon of Excellence Award narrative]by Press Ganey Associates, Inc. The Beacon of Excellence Award recognizes top-performing facilities that maintain high levels of excellence in Physician Engagement. The Press Ganey Beacon of Excellence Award recognizes leading health care facilities that have achieved and consistently maintained excellence for multiple years. The award is given to only 45 organizations per year, representing the top three performing organizations by category. N/AIDHC has ranked in the 99th percentile for physician engagement for the past three surveys.
Key Facts

While N/AIDHC specialists care for children from around the country and the world, the majority of patients come to N/AIDHC from Delaware, Pennsylvania, New Jersey and Maryland.
N/AIDHC conducts annual surveys of community physicians in each of these four states.
Results of annual surveys are shared with administrators, clinical leaders and department managers as well as with the community physicians. Responses to issues raised in the survey are communicated to the community physicians by a team of three dedicated physician liaisons assigned to Delaware, New Jersey and Pennsylvania.
N/AIDHC implemented a number of initiatives during the past several years to make it easier for community physicians to trust their patients' specialty care to N/AIDHC:
o Improved availability of appointments for patients by offering new patient appointments within five business days of request.
o Introduced a Physician Priority Line (PPL) to allow immediate consultation with a N/AIDHC specialist about a given patient.
o Making specialty services more convenient by opening new outpatient locations or expanding the specialty services available at current locations.

In 2012, the highest performing areas as compared to the national averages included:
o Respectful treatment of referring physicians;
o Satisfaction with the Emergency Department;
o Timeliness of information about patient care, and;
o Use of technology and clinical practices to improve patient care.

Press Ganey partners with more than 10,000 health care facilities, including more than half of all U.S. hospitals, to measure and improve the patient experience.
Quotes
"Outcomes and service are the two most important things Nemours delivers to children and families, and are vital to reaching our goal of becoming the best children's health system in the U.S. Our partnerships with referring physicians are critical to our success, and to improving the quality and safety of patient care, providing a positive and collaborative environment for employees and physicians, and ultimately to delivering exceptional patient experiences".
-- David J. Bailey, MD, President and CEO of Nemours
"We are proud to partner with Nemours. Achieving and sustaining such a high degree of excellence reflects the organization's deep commitment to delivering outstanding service and quality. Ultimately, this accomplishment is a bold statement to the community that Nemours/Alfred I. duPont Hospital for Children provides excellent patient care and experiences."
-- Patrick T. Ryan, CEO of Press Ganey
About Nemours
Nemours (NAH-mors) is an internationally recognized children's health system that owns and operates the Alfred I. duPont Hospital for Children in Wilmington, Delaware and the Nemours Children's Hospital in Orlando, Florida along with major pediatric specialty clinics in Delaware, Florida, Pennsylvania and New Jersey.
Established as The Nemours Foundation through the legacy and philanthropy of Alfred I. du Pont, Nemours offers pediatric clinical care, research, education, advocacy and prevention programs to all families in the communities it serves. For more information, visit http://www.Nemours.org.