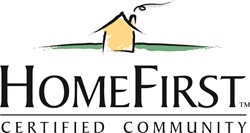 This holiday season, we want to make sure all hard-working families have a place to call home.
Birmingham, MI (PRWEB) November 26, 2013
Michigan families in the market for an affordable new home this holiday season are in for a real treat. For the first time ever, families can rent a home in any HomeFirst™ Certified Community for under $600/month.
"This holiday season, we want to make sure all hard-working families have a place to call home," said Danya Mallad, Director of Sales and Marketing. "We recognize many families in Michigan have been hit hard by the economy, and maybe haven't had the best of luck with financing. With this great offer, we're letting those families know that HomeFirst™ is here to help."
For just $599/month, families can move into a 3-bedroom/2-bathroom manufactured or mobile home at any of the 11 HomeFirst™ Certified Communities. These aren't just any homes. They are beautifully crafted, structurally sound, and spacious enough to comfortably accommodate most families.
In addition to an amazing home, all residents receive access to a wide selection of perks and amenities, such as free utilities, a community clubhouse, a 24-hour fitness center, a basketball court, playgrounds, picnic tables and a swimming pool.
"It doesn't matter if they rent or buy their home, or how much they pay," said Mallad. "All HomeFirst™ residents enjoy these incredible perks."
About HomeFirst™ Certified Communities
HomeFirst™ Certified Communities are a collection of mobile and manufactured homes available for purchase and rent, providing pleasurable and affordable living solutions for individuals, families and retirees alike. There are 11 HomeFirst™ locations across Michigan, including Adrian, Davisburg, Flushing, Jackson, Mount Clemens, New Haven, Potterville, South Lyon and Willis.
###
For more information or to schedule an interview with Danya Mallad, contact Lulu Rubens at 248-591-4314 or email LRubens(at)trafficdigitalagency(dot)com.