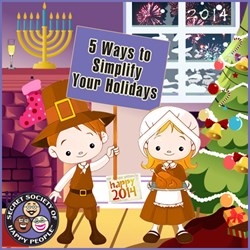 What we remember about the holidays are the times we spend with those we love, not the time we spend doing to - do lists.
Dallas, TX (PRWEB) November 26, 2013
The Secret Society of Happy People is offering a free downloadable 17-page workbook entitled "Five Ways To Simplify Your Holidays" to enable people to plan ahead and reduce stress.
The workbook consists of reminders, checklists and tips to reduce stress during December, when the majority of Americans are at their most stressed state. According to the American Psychological Association, 69 percent of women surveyed reported increased stress due to lack of time during the holiday season and more than half of the women surveyed said that the pressure for giving gifts stressed them.
"When we're stressed, it's hard to feel anything other than the bundle of emotions we label stress. Stress drains us leaving us feeling like a stretched rubber band that's waiting to pop…and by pop it usually means flying off the handle so an array of unhappy emotions gets expressed," says Pamela Gail Johnson, Founder of The Secret Society of Happy People.
Johnson says the best way to eliminate stress is with lifestyle changes, revamping one's attitude and making a checklist and schedule so that people can be proactive rather than reactive when presented with a stressor. "I think it's sometimes the smallest things that set us off, the proverbial straw that broke the camel's back," said Johnson.
The workbook provides simply tools including checklists and shopping lists, instructions for creating a master calendar and holiday planning tips to map out a plan of action for the entire month rather than cramming every holiday task into the week prior to Christmas. "Often, people get so focused on holiday planning that they forget other activities that are imperative in December, such as seeing doctors before end-of-year benefits expire."
One tip that's included in the workbook combines tasks for a multi-purpose benefit according to Johnson. "Buy gifts ahead of time such as candles, ornaments or candy and wrap them ahead of time. Put a sticky note on the bottom of the gift so that you can identify what's inside. This way you have a gift to give to someone you may have overlooked or for an extra guest, and you can use the beautifully wrapped presents as holiday décor in the meantime."
"Your most cherished holiday memories come from the time you spend with the friends and family that make you smile: everything else about the holidays is an ambiance accessory. If you can only do one thing, make it an activity that creates a memory. Bake cookies, go to a community holiday event, or play a secret Santa for someone who needs their holiday spirits lifted. You'll remember these things forever, "says Johnson.
Click to download the 17-page workbook entitled "Five Ways To Simplify Your Holidays". No purchase is necessary to download the workbook. The Secret Society of Happy People also released a new survey about what makes people happy on Thanksgiving. View survey highlights by visiting Thanksgiving Happiness Survey Surprises.
About The Secret Society of Happy People:
Pamela Gail Johnson founded the Secret Society of Happy People in 1998 to encourage the expression of happiness and discourage parade-raining. The Society has thousands of members from more than 34 countries. Ms. Johnson is a public speaker for organizations and companies around the country who want to promote happiness among their members or employees. The Secret Society of Happy People offers free membership to anyone interested in learning how to improve their happiness quotient. The free membership includes a downloadable Happiness Word Poster, a monthly Happiness Happens newsletter and an optional Daily Happiness Inspiration email. The society also offers videos, books and daily inspirations to promote happiness.