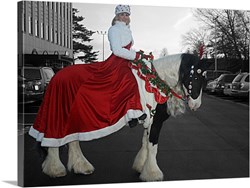 McKinney, TX (PRWEB) November 26, 2013
Paint Your Life, one of the biggest names is custom art, is pleased to announce a great lineup of new art styles – in addition to some old favorites – just in time for holiday shoppers. These styles are perfect for those who are looking to capture their favorite holiday memories just in time for the upcoming season, or even for those who are looking to do a little early holiday shopping to beat the holiday rush.
At http://www.PaintYourLife.com, the styles range from classics that include oil portraits, watercolor portraits, and acrylic portraits. Buyers can choose from among their favorite painting styles or, if they are uncertain what they want, they can even have a free consultation with a Paint Your Life representative to determine which style works best with the photograph that they want to use. Though virtually any photograph can be turned into a great piece of custom art, suggestions for great holiday art include holiday photographs of the entire family, pictures of the kids with Santa, or other favorite photos from special occasions throughout the year.
Those who are looking for something a little more fun can find a great selection of innovative styles at http://www.PopArtPros.com. Here, favorite family photographs can be transformed into classic pop art pieces using the Classic Pop Art style, Vintage for a whimsical, old-fashioned art piece or for classic family photographs, or Color Splash for something a little bit different. With all of these styles, buyers will have the option to customize it to their liking with the help of a trained, highly skilled artist, who will allow them to approve their custom art piece before it is printed and shipped. All of them can easily be transformed into a great holiday art piece that will help people capture their favorite holiday memories now and for years to come.
Those who are simply looking for a photo to canvas transfer of their favorite pictures can find what they need on http://www.CanvasGurus.com. There are many great options available, from split canvas works featuring just one photograph to collage pieces featuring multiple holiday or family photographs – perfect for the family looking to decorate their home with their favorite holiday photo.
About PaintYourLife
Since 2006 PaintYourLife has been the leading provider of online art products, and features one of the world's largest selections of canvas and art products. All products are designed by a team of professional graphic designers, and each product is created with the utmost quality and attention to detail. The site, which is a leader in the online art industry, has seen tremendous success because of customer and word-of-mouth referrals, and continuously works to develop innovative new ways to cater to an extensive range of needs.