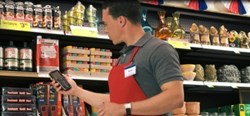 All our customers have to do is plug it in, turn it on, and start taking inventory. The MBR1400's scalability is totally plug-and-play, whether there's wired Internet access or not. -Thomas Rizzo, Solution Architect at HART Systems
Boise, Idaho (PRWEB) November 26, 2013
CradlePoint, the global leader in 3G/4G wireless networking solutions for distributed enterprises, is now making HART Systems' retail inventory solutions simpler and more efficient to implement. HART Systems is a leading provider of technology-driven physical inventory management solutions to the global retail industry.
"HART Systems had an interesting challenge," according to Tom Loutzenheiser, CradlePoint's Vice President of Marketing and Product Management. "Hart uses the Internet to give its global clients real-time access to data as store inventories take place. Not surprisingly, there's no single standard for how individual retail stores around the world connect to the Internet. So HART needed a way to connect any store, in any country to their system, no matter how they got online."
Hart Systems' solution architect Thomas Rizzo says that, after much research, HART found the one device that meets this requirement: the CradlePoint MBR1400 Mission-Critical Branch Router.
CradlePoint's 3G/4G networking solution enables HART to connect its hand-held scanners using whatever kind of access is available at each individual store's location. Rizzo says that the MBR1400's scalability, ease of use, cost-effectiveness, and reliability have since made it the backbone of HART System's inventory solution.
"CradlePoint pre-configures its equipment, and then our logistics team ships it to our customers," Rizzo says. "All our customers have to do is plug it in, turn it on, and start taking inventory. The MBR1400 is totally plug-and-play, whether there's wired Internet access or not."
The plug-and-play feature is particularly important because, unlike its competition, HART Systems designs inventory solutions to be used by in-store employees—rather than by specially trained contractors. So the solution needs to be very easy to implement and use at the store level.
But the bottom line is CradlePoint's ability to solve HART System's big IT problem.
"What really impressed us are the business opportunities we've gained thanks to the flexibility of CradlePoint devices," says Rizzo. "We feel we can support most any retail environment because we're not limited by how the store gets online. CradlePoint can do it all."
About HART Systems
Hart Systems, LLC leads the industry by providing highly accurate, wireless scanner connectivity using customized, user-friendly software; real-time, web-based reporting; and 24/7 in-house support. HART's omni-directional, image-reader technology boosts accuracy and reduces read time for every scan, providing scanning productivity increases in excess of 50 percent. Learn more at HARTsystems.com.
About CradlePoint
CradlePoint is the global leader in cloud-managed 3G/4G networking solutions, providing business-grade, secure connectivity to distributed enterprises, small businesses, and mobile customers. Specializing in business continuity, advanced edge routing, machine-to-machine (M2M), and primary connections, CradlePoint's award-winning solutions are purpose built for PCI-compliant networks. CradlePoint is the first to pioneer and fully enable high-speed LTE in its solutions to maximize the potential of the cloud for businesses worldwide. CradlePoint is a privately held company in Boise, Idaho. Learn more at CradlePoint.com or follow on Twitter @CradlePoint.
MEDIA CONTACT
Michael Rotchford
CradlePoint
208.639.4276
mrotchford(at)cradlepoint(dot)com