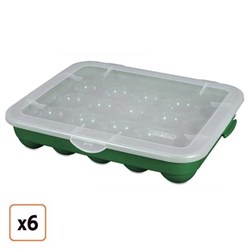 Urbana, IA (PRWEB) November 26, 2013
E-commerce retailer JustPlasticBoxes recently added several new plastic boxes for storing Christmas ornaments, wrapping paper, lights, wreaths, and more. The new additions continue to widen the scope of products for the company, which is broadening from simple storage boxes to include more special-purpose merchandise.
Product Specialist Tammy Karr says the new products are packaged in multi-packs and priced for bulk quantity sales, but customers can purchase just one or a few boxes if needed.
"We know that with special-purpose items such as a wreath storage box or a greeting card storage box, a customer may not need a case pack of six boxes. As with all of our items, customers can call us to place an order if they need a smaller quantity," said Karr.
Karr says the company also offers a special pricing structure for customers who would like to purchase more than one case pack of a product. For example, the price of one six-pack of Sterilite ornament cases is $63.99, with the price per pack dropping from 3% to 14% when a customer purchases multiple packs. Charts with cost savings are posted clearly on each product page. Customers can also always call the company's toll free sales line at 800- 736-0651 for more information on pricing.
The company also offers free shipping on all orders, with transit time generally just one to four days to addresses in the continental United States.
For more information or to purchase, visit JustPlasticBoxes.com, or call 800-736-0651.
###
About JustPlasticBoxes.com
JustPlasticBoxes is owned by Clickstop, Inc., an online retailer of niche brands in several different categories. Websites under the Clickstop company umbrella also include SpaceSavers.com, BellyBling.net, USCargoControl.com and EcoFoil.com. With strong vendor relationships from Clickstop's large e-commerce presence, JustPlasticBoxes is proud to offer high quality brand name plastic storage boxes at value prices with free delivery.