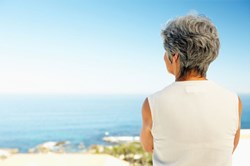 Chicago facial expert surgeon, Dr. Anthony Geroulis, has performed cosmetic surgery on an 89 year old Chicago woman, now making the patient among the oldest to have plastic cosmetic surgery in the United States.
Northfield, IL (PRWEB) November 27, 2013
North Shore Center for Facial Plastic & Cosmetic Surgery, long reputed for its specialized medical team headed by expert surgeon Dr. Anthony Geroulis, has performed cosmetic surgery on an 89 year old Chicago woman, now making the patient among the oldest to have plastic cosmetic surgery in the United States.
The patient, who spent her career as a secretary and personal assistant, always cherished looking her best. Decades earlier, when sudden contractions began and she realized that she was ready to go to the hospital to have her son, now 65, Joanne emerged from her bedroom in a black dress and string of pearls. "That's the way I am. I have always wanted to look my best," confesses the patient.
Looking her best recently took her to board-certified cosmetic surgeon Dr. Geroulis, where early one Tuesday morning, Joanne underwent comprehensive rejuvenation surgeries. They included a Rhitidectomy, Plastysma Corsetplasty and a Lower Blepharoplasty, popularly known as a face and neck lift and lower eyelid fat removal. The goal of the procedures was to restore a more defined contour to the face, remove excess skin folds, smooth out deep wrinkles, re-contour the neckline by reducing lax skin neck tissues and remove excess lid skin from around the eyes. Joanne's after photos show a refreshed and refined face, closer to 65 years old, a stark departure from the previous weary aged facial appearance. Importantly, her now dramatic smile and energy radiate more visibly, revealing a bon vivant personality that previously could have been overlooked. Her results are natural, undetected of surgical intervention.
Long trusted surgery advisor and confidant to patients, Dr. Geroulis has forged his medical career with a single-minded focus on surgical excellence, patient safety and discretion. Renowned for his conservative "mid-west" surgical approach that recently received Chicago media attention, Dr Geroulis has carefully screened over 33,000 patients in his surgical career and does not proceed with a surgery or procedure unless it is medically advisable, is in their best interest and patients are fully-committed with realistic expectations. "It is less common to perform a cosmetic procedure, such as a facelift, on a man or woman in their late eighties or nineties. However, if they are in good health and candid about their past medical history, it can be done." Dr. Geroulis and his medical staff have performed procedures on patients from ages 6 to 89, utilizing exceptionally high standards of patient safety and medical ethics. "In the case of Joanne, I identified the best series of procedures to perform based upon a comprehensive pre-surgical consultation, an in-depth history and physical analysis to achieve the safest, most effective result: one that has a longer lasting improvement, with a downtime similar to that of a fifty year old undergoing facial rejuvenation, and that does not look artificial for a women of this phase in her life."
About Dr. Anthony J. Geroulis:
Bringing over 33 years of surgical and artistic experience to the field of facial plastic & cosmetic surgery, Anthony J. Geroulis, MD, FICS, has repeatedly been named a "Top Doctor" by U.S. News & World Report. Board certified in cosmetic surgery, author and active sculptor, Dr. Anthony Geroulis is a clinical professor of surgery at the University of Chicago Medical Center (UCMC). His practice is headquartered in Northfield, with offices in Chicago, at the University of Chicago Medical Center and at St. Alexis Medical Center in Hoffman Estates.
PR Contact:
Mirofora Constantino, B.A., M.B.A
Communications Officer - North Shore Center for Facial Plastic & Cosmetic Surgery
Madelaine Kukanza, B.A.
Marketing Communications Assistant – North Shore Center for Facial Plastic & Cosmetic Surgery
madelaine(at)geroulis(dot)com