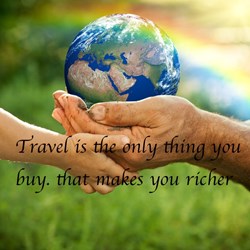 San Francisco,CA (PRWEB) November 26, 2013
Some people forget that during the months of December, January, and February, popular vacation spots in the southern hemisphere are experiencing their summer forecast!
The luxury flight specialists at FlyBusinessCheap.com market heavily discounted international business and first class fares all year round. It is because of their knowledge and expertise on international luxury airfares, that they are able to promote the best deals in the industry, every day, of every season. FlyBusinessCheap.com wants to send a friendly reminder to anyone interested, that it is in fact possible to travel to a new vacation spot, any time of the year, in order to enjoying whatever season may come to mind. Here are just three of the world's most frequently vacationed spots that have their summers officially beginning in December:
Anyone who can appreciate natural beauty will be struck in aw by the sheer magnificence of New Zealand's stunning scenery. Beyond the country's spectacular islands and beaches, there are mountains, native forests, and even glaciers; this county's natural beauty and wildlife have been extensively preserved by a very ecologically minded government, resulting in some of the most beautiful, photogenic scenery in the world. Visitors of the highly explored city of Rotorua will be treated with a plethora thermal wonders. The city is famous for the various hot springs and geysers that surround the region, many of which reside in protected park reserves. Beyond the beautiful wildlife, New Zealand is also home to the tallest freestanding structure in the Southern Hemisphere; positioned over 1,000 feet above the ground and even featuring its own revolving restaurant, the Sky Tower overlooks the country's largest city: Auckland. Business class flights to New Zealand start at only $4,467 with FlyBusinessCheap.com.
Bangkok, Thailand
There are many things that can be thought of when describing Bangkok, first of all, it is one of the largest cities in the world holding a population of over 9 million people, and the warm summer heats rarely subside after sunset, making the perfect atmosphere to host some of the most active nightlife scenes in the world. As one of Asia's most cosmopolitan cities, Bankok is also home to numerous temples, palaces, and widespread canals. Known as the "Bangkok Klongs" these various canals serve as a great reminder of when Bangkok was historically known as "The Venice of the East" because of its extensive use of canals for transport and commerce. If a canal ride sounds a little too wet for some, then gazing at the historic Temple of Wat Arun will do wonders. Standing on the Thonburi side of the Chao Phraya River, the famous structure (which translates to "Temple of Dawn") is one of the oldest and best known tourist attractions in Bangkok. As an architectural representation of the center of the universe in Buddhist cosmetology, the Wat Arun Temple holds great importance to the Taiwanese people and culture. Of course there are many more places to visit when exploring such a massively distinct city as Bangkok. FlyBusinessCheap.com can help start the exploration of a lifetime with business class fares to Bangkok starting at just $3,763.
A visit to Australia will open one's eyes to an array of exciting adventures. Whether visiting world famous museums, exploring gorgeous landscapes, or experiencing indigenous culture, visitors will surely be taken back by how much the locality has to offer. Australia is home to one of the world's most recognized natural wonders: the Great Barrier Reef. Grab some snorkeling or diving gear and prepare to explore an available 1,430 miles worth of underwater subtropical gardens that are brimming with marine life. If underwater exploration isn't exactly your cup of tea, perhaps the world's largest sand island will make due. People from all around world come to experience Fraser Island, it is listed as a world heritage site, thus signifying it as an unabated natural habitat, home of several endangered species and some of the most serene crystal clear waters one will ever see. Of course many vacationers will naturally yearn to visit Australia's most notably famous venue: the Sydney Opera House. Located in the country's largest and most populous city, the opera house features modern expressionist architecture and represents the country's hallmark of modern culture, highlighting world famous performances year round. FlyBusinessCheap.com is offering business class fares to Australia that start at only $4,251.
Be sure to start the December Summer fun with FlyBusinessCheap.com and enjoy the lowest luxury class fares in the industry.
FlyBusinessCheap.com absolutely guarantees the lowest fares on the market for international first & business class flights and work exclusively with the world's finest airline companies.
Give them a call and be routed directly to one of luxury flight specialists available in any one of three office locations in San Francisco, New York, or Chicago.
Look no further than FlyBusinessCheap.com for the easiest, fastest, no hassles discount luxury flights.