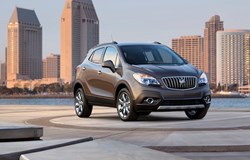 The crossover segment has become one of the most important to automakers, right alongside compact sedans and pick-up trucks.
Torrance, CA (PRWEB) November 27, 2013
For the modern day driver who wants it all from a car, nothing combines the versatility of a car and the practicality of an SUV like a crossover. To keep tabs on the most rapidly expanding market in the automotive industry, autoMedia.com has compiled a list of the fourteen best crossovers, or Compact SUVs, on the market for the 2014 model year.
The article, Top 14 Compact SUVs For 2014, includes models of every shape and size for both the affluent and budget-minded buyer.
These days, every car needs to be fuel efficient and every driver wants to feel capable of anything. Enter the Compact SUV, which is nearly twenty years old, but has experienced a renaissance and sales boom just in the last half-decade. These cars have grown up fast, from soft and ambiguous automotive punchline to refined and often dynamic do-everything.
Crossovers started out simply as vehicles that mixed the handling and fuel efficiency of a car with the size and comfort of an SUV, so the autoMedia.com article pays particular attention to those that go the extra mile to bring the Compact SUV segment to new heights. Some may have exceptional driving dynamics while others offer premium quality in a budget-friendly package. Whatever the case, crossovers are more abundant than ever, and each one is different from the next.
"The crossover segment has become one of the most important to automakers, right alongside compact sedans and pick-up trucks when it comes to sales, and this new list shines a spotlight on those that deserve the attention," said autoMedia.com Founder and CEO Doug Hamlin. "Buyers will find crossovers of all kinds, that specialize in everything from hauling to fuel-sipping. To build and price a vehicle of their own, readers can click directly to the autoMedia.com New Cars buying guide to research and request a quote from these brands, as well."
Included on the list are iconic models that begat the whole Compact SUV segment in the first place, like the Toyota RAV4 and Honda CR-V. But are these old guards still relevant today?
Other impressive crossovers come from domestic brands, like the Ford Escape and GMC Terrain – two very impressive vehicles for two very different reasons. Europe has now dived with both feet into the Compact SUV deep end, with a strong list of competitors and even more set to reach the U.S. soon.
"In many ways, the growth of the crossover segment is indicative of the future of the entire automotive industry," said Hamlin. "This list keeps readers on the cutting edge, and we can't wait to see what else is in store."
Keep checking autoMedia.com for the latest news, photos and analysis from around the automotive industry.
About autoMedia.com: The auto website was launched in September 2000 by a team of automotive editorial, design, and publishing professionals, with the goal to be the premier provider of quality automotive content on and for the Web. Today it features over 92,500 pages of original articles, including over 2,500 features researched and written by leading automotive experts, covering new and used car buying, new vehicle previews, road test reviews, car care maintenance, professional driving advice, and technology. Automotive enthusiasts and new car shoppers can read about the latest industry news, pricing, rebates and incentives, view photo galleries and research details on all makes and models. For more information, visit autoMedia.com.