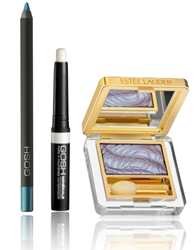 Red Square's A-Lister make-up gurus have summed up the look of the season with six fabulous day and night trends which have been adorning the international catwalks.
Johannesburg (PRWEB) November 27, 2013
Summer is finally here which means that it's time to experiment with this season's fun and funky new make-up trends. To be sure that customers are bang on trend, all the latest make up products and gorgeous colours are now available from Red Square stores or from the Red Square online beauty store. The Red Square's A-Lister make-up gurus have summed up the look of the season with six fabulous day and night trends which have been adorning the international catwalks. Here's what they had to say.
Less is More
This summer day look is all about flawless skin. Alexander McQueen, Valentino and Roberto Cavalli have brought back a powdered, matte finish in a trend towards velvet skin. The emphasis is on prepping skin to perfection. "We call this trend enhanced minimalism and the most important element of this look is radiant matte skin," reveals A-List Make-Up Artist Greg Noah. To achieve this he recommends foundation that provides good coverage but still adds that extra radiant finish. "Try Clarins Ever Matte Foundation Oil-Free (R360), Clinique Stay Matte Oil-Free Make Up (R360) or EstéeLauder Double Wear Stay in Place Make Up (R415) for this look," he recommends.
Contouring to strengthen features is another important element to this look. Noah explains that this can be achieved by making use of a concealer such as Clinique's Airbrush concealer (R230) which is two to three shades darker than your natural skin tone. "Only use powder around the centre of the face as this will also help to avoid looking overdone."
To complete this look, a lip conditioner from Estée Lauder or Clarins is used to marinade the lip before applying a GOSH Long Lasting Lip Marker Pen (R110) to lightly stain the lip. Two coats of Lancôme's Hypnôse Doll Eyes Mascara (R335) are all that is needed around the eyes as eyebrows are simply shaped by brushing them upwards.
The Holiday Look
Holidays are about the sun, the sand and the surf; and this summer, the aim is to look sun-kissed and sensational all the time. "To get the tan without the sun use one of Estée Lauder's liquid bronzers," says A-List Make-Up Artist Tshego Maphatane. "I always recommend liquid bronzers instead of powders because powders require extremely careful application. Make sure to mix sun protection with the liquid bronzer and apply them both together. When applied one after the other the products won't combine well." As far as the bronzer for the face is concerned, start with a little and apply more only as needed.
The same less-is-more concept applies to eye-shadows, and for this look cream eye-shadows hit the mark. "If too much product is applied, it clumps in the creases of the eye," warns Maphatane.
Water-proof mascara and eye-liner are must-haves for pool-side glam. Estée Lauder's Double-Wear Zero-Smudge mascaras (R295 – R300) with built-in primer are a great option, while Revlon's Grow Luscious Plumping Waterproof Mascara (R139) helps strengthen and plump lashes. This is critical as Maphatane emphasises the importance of using mascaras that have conditioners. When it comes to eye-liners he recommends GOSH for its trendy vibrant colours.
For that healthy holiday glow, use a mineralising foundation such as Clarins Skin Illusion Foundation in place of a matte foundation. To avoid the greyish sheen that comes with applying a high SPF, mix your foundation with sun screen and apply them together.
Bright Lips
Bright lips have been all the rage on the catwalks this year with Burberry models sporting a show stopping scarlet hue. Not to be left behind, Missoni and Oscar de la Renta featured a more pinky-red, while a much more powerful red was favoured by Jean Paul Gaultier. As such, this summer fashionistas can have fun experimenting with vibrant colours. A-List Make-Up Artist Rahista Gopal explains that in addition to a lip brush, a lip liner is critical to achieve the intensity of this look. "A good lip conditioner is also important as lips should not be cracked or dry when drawing attention to them," she adds. For the most show-stopping shades Gopal recommends the vibrant range of colours from GOSH. "Estée Lauder also produces the most fantastic shade of red," she enthuses. Avoid using gloss with this look as lips appear overdone.
To recreate this look try one of Revlon's lip liners (R145) which are gel based and very easy to use. Elizabeth Arden's 8 Hour Lip Balm (R150) together with Estée Lauder's All Day Lipstick in Coral Tangerine (R 275) or Clarins' Rouge Prodige True lipstick (R235) can be used to complete this trend. For application try a lip brush from Beautique or GOSH.
Attention Grabbing Eyes
Thanks to last year's cat-eye trend, eye liner has become a fashion essential. And this year bold outlines with softly smudged edges have stolen the show at international events such as BCBG, Roberto Cavalli and Lavin. This ultra-glam night time look will ensure your eyes are the envy of the evening. Noah describes this as the classic smokey eye which is reproduced using one of GOSH's eye liners, such as the GOSH Kohl Eye Liner (R79) or the GOSH Intense Eye Liner Pen (R125). "Rim the eye and then take an eye shadow brush or crease brush and use it to blend that line away," he explains. "To avoid smudges it helps to set the pencil." For additional brands which can be used for this look Noah recommends Estée Lauder's double wear eye liner in bronze.
Bold Brows and Sixties Lashes
Continuing the theme of emphasis on the eyes, this summer the fashion focus is bold brows and sixties lashes. Designers such as Marc Jacobs have been all about accentuated brows, doe eyes and nude lips, turning back the clock to a more retro sixties style. Maphatane explains that to achieve this look a super fine liner from GOSH or Clinique is needed. "To create that really full-browed look, use the liner in between the brows and then lightly brush over them with an angle brush to make sure the lines don't show," he advises. "The eyebrows will look instantly fuller."
For stand-out sixties lashes, Maphatane recommends a volumising mascara which should be used on both sides of the lashes and wiggled to create volume. "Lashes appear much fuller without the need for false lashes," he explains. "For this look, try Magnoscopic from Estée Lauder (R295), GOSH's Amazing Length Mascara (R89) or the new Catchy Eyes Mascara (R110) also from GOSH.
Mediterranean Inspired Colours
Bright and fun colours are one of the hottest trends this season; and when it comes to GOSH's fabulous range of liquid liners, there are sensational shades to choose from. Gopal reveals that Mediterranean inspired bright blues, turquoises and aqua are all the rage this summer, with thin green streaks featured at Stella McCartney and Kenzo shows, while bright sapphires royal blues and teal have been trending at Versus and la Fendi. She explains that the trick to achieving this look is to mix your liquid liner with your concealer, using it as a base colour on the lid. "Apply this with the ring finger and then add the corresponding eye shadow after," she advises. "This provides the look with the desired intensity."
Gopal warns that it's important to keep within the structure of the eyelid and not to apply colour above the crease of the eye. "Room must be left beneath the eyebrow for a high-lighter which gives the brows far greater definition," she adds.
To recreate this look, use one of GOSH's fabulous eye-liners such as the Velvet Touch Eye Liner Waterproof (R99). Elizabeth Arden's fantastic range of shimmer eye shadows (R195) and Estée Lauder's pure colour eye-shadows in metallic shades (R300) are a fabulous fit to complete the look. In order to make sure that the eye-shadow doesn't rub off, GOSH's Velvet Touch Eye Primer (R145) is sure to do the trick.
Polished and Ready to go
No perfect look would be complete without the nails to match, and this summer all of our A-List experts agree bright colours and glam are the look of the season. Noah reveals that GOSH is the must-have brand for the widest range of stunning shades this season, commenting that its mint shade (Miss Minty) is particularly popular at the moment.
Maphatane adds that Nails Inc is also known for its bright, funky colours. "From nude to neon, Nails Inc has it all," he says. "The brand is also known for its amazing designs and effects which are perfect for dressing up."
Gopal comments that both brands are ideal for the year's trend towards really bold summer colours. "Revlon also has the most fabulous effects and lasts extremely well; it's fantastic value for money," she concludes. Great colours this summer include Revlon's Colourstay Nail Enamel 080 Delicious and 070 Wild Strawberry (R99.95 each).
To make sure that their customers are kept up to speed with the season's sizzling hot new styles, Red Square stocks all of the above-mentioned products in store. For those fashion divas amongst us who battle to find the time to hit the malls, the products are available at Red Square's online beauty store, http://www.redsquare.co.za. Find Red Square Beauty on Facebook and Twitter for more beauty tips and news on specials and free gift offers.
About Red Square
Red Square is South Africa's leading cosmetics speciality brand offering the widest range of national and international branded cosmetics in 39 stores and with 3 new stores opening on the 26th September, customers will now be able to choose from 42 stores or shop online at http://www.redsquare.co.za.
Covering make-up, skincare, fragrances and accessories, Red Square includes famous brands such as Clinique, Clarins, Estee Lauder, L'Oreal and Revlon and is constantly developing its catalogue as seen with the recent additions of GOSH, Nails Inc, Smashbox, Bobbi Brown & CK Colour. Customers can consult a beauty advisor at the Red Square treatment counter for a complimentary skin analysis.
Red Square now offers a unique sampling programme for on-line customers that allows them to choose three free samples with every order. The website promises to be a hugely valuable tool with a wealth of product information and customer reviews. Most of the brands in store are available on the website, with more brands being added every month. All orders over the value of R350 are delivered at no charge.
Customers can select from a wide choice of payment options including Edgars Cards and Jet Thank U account cards, as well as all major credit cards. The Thank U loyalty programme offers additional customer benefits which can be earned when spending in-store or on-line.
Where can we get more information?
Call the Red Square Call Centre on 0800 203 925, visit http://www.redsquare.co.za or email [email protected]
Customer Service Call Centre Operating hours:
Monday to Friday 08h00 to 18h00
Saturday and Sunday 09h00 to 15h00
Public Holidays Closed
How do I apply for an account?
At any Red Square / Edgars store in the customer service department
SMS your name, surname, ID number, gross income and expenses to 49222
Click on the "apply for an account" link in the footer of the website and complete the online application form
Issued on behalf of : Red Square
Contact: Sharon Dickinson
Issued by: Phatic Communications
Contact: Sarann Buckby
Cell: 083 381 0710
Email: sarann(at)phatic(dot)co(dot)za