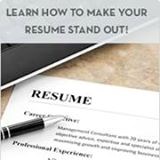 ...the change from human-reviewed resumes to software-reviewed resumes has caused many highly qualified candidates to remain unemployed simply because they approached resume writing in an old-fashioned way...
Orlando, FL (PRWEB) December 09, 2013
Resumes that worked well several years ago will not even get a second glance from today's employers, according to the Resume Writing Guild, a team of professional resume writers who help thousands of clients land promising job interviews each year. These days, creating an effective resume requires cutting-edge skill and enough technical knowledge to get past automated software-based "gatekeepers" while still appealing to human readers.
Once upon a pre-Internet job hunt, simple do-it-yourself resumes were sometimes good enough. Job applicants only had to add adjectives to otherwise straightforward summaries of their academic records, prior career experience, and extra-curricular activities. Applicants who could do a halfway decent job of resume writing were likely to be called in for interviews.
Unfortunately, those days of simple resumes are over. Candidates today need to appeal to both electronic and human readers. Job seekers first have to get their resumes past an employer's computer software filters before a human will even look at them. Many resumes never make it past this first hurdle.
To pass through the software filters, resumes must contain strategically placed keywords designed to meet the expectations of the non-human algorithms. There is a science behind creating a resume that can survive the filtering processes of the top recruiting software applications. Resumes must have exactly the right number of keywords spaced at precisely the right distance from each other in order to survive the first cut.
Even those applicants whose resumes "crack the code" and pass safely through the algorithm's obstacle course still have to jump through several additional hoops with which yesteryear's job seekers never had to deal. In order to stand out from the masses, today's applicants need to provide cleverly worded descriptions of their educational backgrounds, clear demonstrations of what they learned from previous jobs, and compelling, convincing reasons for why they offer more than competing candidates. But it doesn't stop there. Applicants are still not finished even if their resumes successfully navigate the software obstacle course and subsequently attract favorable attention from recruiters. Job seekers can still fail at this stage of the application process if they have neglected to properly manage their social media and networking presence. Failure to keep Facebook pictures of wild partying private, or failure to develop a comprehensive and impressive LinkedIn profile can torpedo a job applicant's hopes. So can surprisingly common basic errors such as failing to create online versions of resumes for employees to view at their convenience.
Experts employed by the Resume Writing Guild utilize methods that follow a proprietary formula designed to ensure precisely the right mix of keywords to get their clients' resumes past the software-filtering systems, where they will go on to impress human readers. The Guild writes resumes that appeal more strongly to today's employers than the resumes presented by competing job applicants, giving Guild clients an important competitive edge.
Resume Writing Guild President David Pabon explained that "the change from human-reviewed resumes to software-reviewed resumes has caused many highly qualified candidates to remain unemployed simply because they approached resume writing in an old-fashioned way." This is doubly tragic because it could have been easily avoided. The errors resulting from using an obsolete approach "would have been child's play for a professional resume writer to correct," Pabon said.
An HR professional, who is a client of the Resume Writing Guild, said, "The industry has seen companies use recruiting software to sift through thousands of resumes without the aid of human eyes for the last few years. Unfortunately, few within the industry have spent the time necessary to really learn what the software is searching for and how to avoid having resumes fall by the cyber wayside without getting even a single human glance."
The Resume Writing Guild provides professional resume and cover-letter writing as well as career counseling and other related services. The Guild creates modern resumes that put its clients at the top of the pile. Guild-written resumes beat the recruiting software at its own game and impress the hiring managers of prospective employers. The Resume Writing Guild also coaches its clients through the process of creating a sparkling social-media presence, including an optimized LinkedIn profile.
For additional information on the Resume Writing Guild, contact David Pabon at 888-875-7916 or writers(at)theresumewritingguild(dot)com, or visit the Guild's website at http://www.resumewritingguild.com.