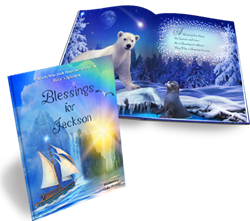 Sometimes it's important to take a step back and appreciate the simple things that life has to offer; everything around us is a blessing and the ultimate blessing in life is a child. This book preaches that message. -Margo Redfern, CEO
Los Gatos, CA (PRWEB) November 26, 2013
The most important thing that a parent can give to their child is love. From this love, security grows, which in turn breeds contentment and happiness, and creates confident children.
Flattenme.com's latest personalized book, 'Blessings for You', is the perfect way of reassuring children on a daily basis of the blessings surrounding them, as well as just how much of a blessing they are to their family and friends.
An ideal gift for the holidays, birthdays, new babies, christenings, baptisms and first communion, the book is designed to be kept forever as a unique keepsake. Consisting of Flattenme's usual stunning and whimsical illustrations, the story aims to transport children into a world of imagination by making it all about them.
This latest offering from the personalization kings is a book that can be catered to any age and it not only reiterates messages of love throughout, but it will also teach the child to appreciate the blessings around them on a daily basis, from the stars in the sky to the mountains on earth.
'Blessings' offers a non-materialistic view on the world that will encourage children to believe that not everything in life is about possessions; it's about seeing the beauty of the world and enjoying the love that is omnipresent every day.
Flattenme aims to stimulate children by encouraging them to embrace the power of their imagination. The personalized products on offer are designed as tools that open a whole new world of storytelling where they are the star.
Flattenme CEO Margo Redfern said: "We are so proud of our latest personalized book and believe that it can be a present for children over a varying age range; every child should know how much of a blessing they are.
"Once the child is too old to read the book, they will be able to look back at it as a keepsake right into their adult life, allowing them to always remember just how special they are to the person who gave them the gift in the first place.
"Sometimes it's important to take a step back and appreciate the simple things that life has to offer; everything around us is a blessing and the ultimate blessing in life is a child. This book preaches that message."
+++++++++++++++++++++++++++++++++++
Flattenme.com is a premium personalized books and gifts company that adds magic to the act of gift giving with unique keepsakes.