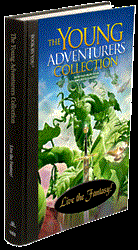 Personalized classic adventure stories for boys. The Young Adventurers Collection is a book that every boy needs to read!
(PRWEB) November 26, 2013
After the smashing success of the exclusive FAIRYTALE PRINCESS COLLECTION, Book By You has developed something special for boys who love adventure (and books, of course). Book By You is proud to announce THE YOUNG ADVENTURERS COLLECTION, just in time for the holidays.
With four exciting tales to personalize, a son, grandson or nephew can be sent on the adventure of a lifetime— and one completely unique to him. He can climb a magical beanstalk to a land in the clouds in JACK & THE BEANSTALK, or change his fortune with the help of a genie in ALADDIN & THE MAGIC LAMP. Introduce him to two stories he may not know as well— L. Frank Baum's THE CAPTURE OF FATHER TIME, and the exciting tale of THE PRINCE & THE DRAGON, all starring him. Even a best friend can be included, who'll lend him a helping hand in two of the stories. And of course, there's a damsel in distress he'll need to rescue. This exclusive collection makes a great stocking stuffer for little readers this holiday season.
At BookByYou.com adults and children can co-author THE YOUNG ADVENTURERS COLLECTION by selecting the names, physical features and places to personalize. Boys can choose loved ones, friends, or even a favorite celebrity to star as their friend, or the princess. The character questionnaire, available on the Book By You's web site, is fun and easy to complete, with characters and features such as hair color, eye color, friends' characteristics and more. The collection's many personalized features make this book a great holiday gift. This professionally bound book is available in paperback, hardcover or ebook editions with immediate downloads upon order.
THE YOUNG ADVENTURERS COLLECTION joins an already extensive selection of kids books from Book By You. Mini musical prodigies will love Song Quest, packed with magic, music, and—naturally—a noble quest. In Two Children and It, a pair of friends get into all sorts of shenanigans with a grumpy wish-granting creature, and it's sequel The Amulet will make the adventure last all through the school year! Aspiring detectives will devour The Secret Code, or relish Fowl Play, where they must solve a mystery AND prove themselves innocent in the process (plus there's a talking bird and a kooky but loveable scientist). The Golden Key is perfect for fairy tale lovers, and our short story collection, The Book of Dragons, will have little fantasy nuts going bananas for each personalized tale. For a more traditional route, Book By You carries classic personalized kid's books like Alice in Wonderland, Robin Hood, Peter Pan, and the exclusive, one-of-a-kind Fairytale Princess Collection, all sure to sweep any child off on the adventure of a lifetime.
Book By You's entire personalized collection is now also available as personalized ebooks. Personalized ebooks are available for download immediately upon ordering. To make them especially unique, each ebook includes a free photo upload feature. Add a personalized dedication, and the result is a remarkable ebook that can be taken anywhere and read any time.
To purchase a personalized novel, readers go to the company's website at BookByYou.com and complete a character questionnaire specifying the information to be included in their book. The company offers a free demonstration area where readers can preview personalized excerpts from any of the company's teen, romance, mystery or personalized children's books.
BookByYou.com has received national media coverage and been featured on ABC's The View, CNN, Fox News, The Wall Street Journal, Jimmy Kimmel Live and many additional media outlets.
BookByYou.com is an interactive publishing company and is the world's largest provider of personalized books. Media interviews, promotions and give-aways are available upon request. Please contact Michael Pocock at 1-877-898-1440 or publish(at)BookByYou(dot)com