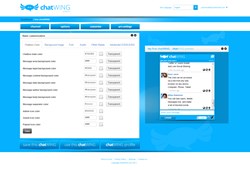 Dallas, TX (PRWEB) November 27, 2013
Dallas, TX – In response to high demand and request, the Chatwing Team is now drafting an interactive chatroom meant for freelance writers. The goal of the chatroom is to unite freelance writers in order to spread helpful data. The information can be related to freelancing jobs, companies looking for work, average rates, and different techniques that freelance writers can use. The freelance writer chat app will also be embedded to a blog that contains various writing sources and materials.
"The chat software is experimental, but we have foreseen the results." Suze Dollar said; she is the head moderator assigned to the freelance writer chatroom. "We have noticed that the demand for freelance writing has increased by a large percentage in just few months. Many employers are now looking for talented writers to increase the visibility of their sites. The Chatwing chatroom helps writers create a small community wherein they can pool their knowledge and experience. Within such community, opportunities may arise and some writers can actually find gigs."
The host blog where the chatroom will be embedded is going to be filled with important content. Writing techniques can be expected by users and the content will be updated on a daily or weekly basis. Additionally, Chatwing Team will also add files that can be downloaded—PDF, short videos, and audiobooks. The chat room will be monitored every day.
The freelancer chat app is just one of Chatwing's initiatives. In the coming months, the company will create more niche chatrooms to empower online interaction among hundreds of users.
About Chatwing.com
Chatwing.com is a company that has brought innovation to the modern chat widget. Operating for more than five years now, Chatwing and its team of developers have dozens of ideas ready to be introduced to the public. The Chatwing chat app is an easy-to-use online tool that can help web users interact with each other and can also generate continuous traffic. Chatwing will always be a "freemium" application for everyone.