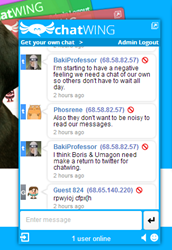 Dallas, TX (PRWEB) November 28, 2013
Chatwing.com reaches out to home business communities by creating an interactive chatroom that can be used for discussions of techniques. This chatroom was created because of the high rate of requests gathered by the Chatwing Team. Below are the following topics expected in the home business chatroom:

Startup techniques. Since there is a plethora of information available in the cyberspace, anyone can freely share in the Chatwing chat room. Beginners can learn various startup techniques, thus ensuring the success of their home businesses. Interaction can be done in simple ways so beginners can get the information they need at the shortest possible time.
Possible investors. The Chatwing chat software is meant to increase the way people connect to the world. It is a simple chatroom tool that can be installed to any website or blog. Despite its simplicity, the chat app is capable of generating continuous streams of traffic regularly. This is the reason why home business owners can rely on the chat tool if they are looking for potential investors.
Marketing. The home business chatroom will also cover marketing techniques. In this way, business owners will know what to do once their businesses are now out in the open. Without a concrete marketing process, a business will never grow and it will succumb to the forces of competition. Through the Chatwing chatroom, home business owners can gain important marketing knowledge.
Chatwing Team will create more niche-centric chatrooms for the coming months. With this initiative, users will become more aware of the global connection power imposed by a simple widget.
About Chatwing.com
Chatwing.com is a company that has brought innovation to the modern chat widget. Operating for more than five years now, Chatwing and its team of developers have dozens of ideas ready to be introduced to the public. The Chatwing chat app is an easy-to-use online tool that can help web users interact with each other and can also generate continuous traffic. Chatwing will always be a "freemium" application for everyone.