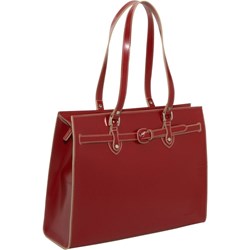 The Milano Alexis was designed for women to fit ipads and laptops specifically for work and business but it's not like carrying a laptop case around, it's more appealing.
Los Angeles, CA (PRWEB) November 26, 2013
The modern successful businesswoman in today's world is different than she was 50 years ago; the women in business today have a stronger sense of style and fashion and that is why women's briefcases are important. These strong powered and driving women in business understand the importance of chic and sexy style of fashion and what and how it connects with getting the job done. The connection of appearance in the work environment is important for both men and women, but for women it commonly conveys and means much more in the workplace than it does for men.
When a businesswoman dresses in a stylish yet classy and conservative business dress or business suit, you know she means business, but there is more to business style than dresses, suits and heels. Accessories like business briefcases for women, tote bags and handbags are just as important for business fashion and style for women.
The wonderful thing that we have noticed with the popular online retailer GotBriefcases.com is that they happen to be one of the few companies that pay heavy attention towards women in business in the aspect of new styles of briefcases and tote bags, especially new lines and brands that stress attractive, cute, and classy fashion to the office and women on the go for business. Vahram Tovmasyan, owner and CEO of GotBriefcases.com stated "We understand the need and desire for women to feel stylish in all parts of their lives and that is why we make an important part of our site briefcases for women because they want to feel attractive and classy at work more than men do".
The women's briefcase line that GotBriefcases.com feels is perfect for every professional lady, and that is spoken very highly of, is the Jack Georges Milano Edge Collection of leather totes, handbags, and briefcases for women. The moment she lays her eyes on this collection she will fall in love, the moment she touches and feels items from this briefcase handbag collection she will not want to let go.
The Jack Georges Milano Edge collection of business totes and business handbags for women is hand made from silky Italian leather with a damage free coating that improves long lasting durability with everyday usage. Most of the items from this collection are a perfect fit for carrying items such laptops, Ipads, as well as the various other accessories needed for conducting business as a professional woman. The Jack Georges Milano Edge collection briefcases for women as well as business totes and handbags comes in a wide array of colors that allow you to be conservative or fashionable but yet professional business style and attire that allows for practicality and functionality for the everyday business professional life.
The great thing about shopping online for a Jack Georges women's briefcase is that you can quickly see the various products in the entire Milano Edge collection with the click of a mouse on GotBriefcases.com. The item that the CEO of Gotbriefcases.com couldn't stop talking about was the Alexis Leather Women's Business Tote, which is a part of the Jack Georges Milano Edge Collection.
The Jack Georges Milano Edge Alexis leather business briefcase tote for women is hands down a gorgeous item, we preferably like the red color choice but it does come in black as well. This leather business tote bag can serve as a briefcase for women with its very sleek yet European style that women love showing off in leather briefcases and handbags. The Milano Alexis was designed for women to fit ipads and laptops specifically for work and business but it's not like carrying a laptop case around, it's more appealing. The Jack Georges Milano Edge Alexis is the perfect combination of fashion, style and functionality for professional businesswomen.
For more information regarding briefcases for women and business tote bags and handbags from the Jack Georges Milano collection or many other designer women's briefcase brands please visit the GotBriefcases.com website. The online luggage retailer that carries many other items at great discount prices and is always updating it's product catalog with the hot new items in briefcases, backpacks, luggage sets, and more for men, women, and children.
Those who would like to find out more about these amazing Jack George Milano Edge Alexis Leather Business Totes for Women visit: http://www.gotbriefcases.com/jack-georges-milano-edge-collection-alexis-leather-womens-laptop-tote.html.