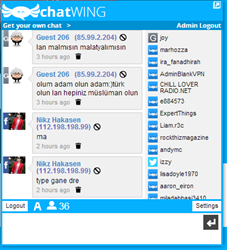 New York, NY (PRWEB) December 01, 2013
Chatwing.com continued its step in the gaming niche by revealing the top images being shared in the active chatrooms. These images have been shared and downloaded many times. Sharing of game images is popular that Chatwing Team is considering putting up a blog for that purpose.
Grand Theft Auto V pictures are gathering a lot of hype in Chatwing chatrooms. Users are sharing their screenshots, while others are asking about the nature of the game. This creates lively discussions that are essential for website growth and traffic.
Saints Row IV is also popular in the chatrooms. Visitors and web users tend to exchange screenshots of their Saints Row characters—complete with costumes. Video link uploads are also common, often showing outrageous acts committed by the players in the game world. Because of this activity, Chatwing chat room is planning to run online contests that are related to Saints Row IV.
The gaming niche is no longer foreign to Chatwing chatrooms. Every now and then, gamers are sharing their favorite websites. Others are asking people to visit their game blogs and share their opinions. Serious game bloggers have availed Chatwing's chat software premium services. The premium advantages brought higher traffic rates, better chat app usage and faster social media connection.
Chatwing developers are always intent on giving out information to all of the chat app users and subscribers. By relaying proper information, the developers are certain that people are getting more aware of the chatroom's importance.
About Chatwing.com
Chatwing.com is a company that has brought innovation to the modern chat widget. Operating for more than five years now, Chatwing and its team of developers have dozens of ideas ready to be introduced to the public. The Chatwing chat app is an easy-to-use online tool that can help web users interact with each other and can also generate continuous traffic. Chatwing will always be a "freemium" application for everyone.