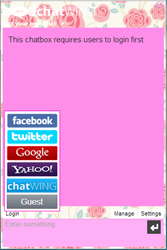 New York, NY (PRWEB) December 02, 2013
Minecraft, one of the most popular world-building games created, is still gaining ground in the cyberspace—this is based on the observation done by Chatwing Development Team. Apart from that, the team has noted that the appearance of Minecraft podcasts has doubled for the year 2013. Chatwing is now offering a customizable chat room that can help Minecraft podcasts gain perennial exposure rates.
A traditional Minecraft podcast contains images of the gamer's adventures. These images are accompanied by commentaries and messages relayed by the gamer. However, a Minecraft podcast is more focused on users who are uploading videos. An embedded Chatwing widget can entice the podcast visitors to have conversations about the topics. The discussions are enough to bring continuous traffic rate to the podcast site.
Chatwing chat app also has social media advantage. With this opportunity, chatroom visitors can log in with their Facebook and Twitter accounts. Now, the visitors can even widen their social networks with ease. Minecraft users can join one group after another—they can now exchange pictures, adventuring stories, mod packs, custom maps, and other Minecraft-related things.
For serious Minecraft site owners, Chatwing has premium advantages. The premium features allow Chatwing logo removal—this will make the chatroom more customizable. Premium services can be availed by using virtual coins. A premium service can be terminated any time.
Minecraft is just one of the games that Chatwing chat software has covered. The company is planning to reach out to MMORPG communities and browser-based game portals. With this strategy, the company is certain that users can learn more about the importance of the embeddable widget.
About Chatwing.com
Chatwing.com is a company that has brought innovation to the modern chat widget. Operating for more than five years now, Chatwing and its team of developers have dozens of ideas ready to be introduced to the public. The Chatwing chat app is an easy-to-use online tool that can help web users interact with each other and can also generate continuous traffic. Chatwing will always be a "freemium" application for everyone.