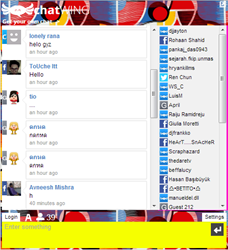 New York, NY (PRWEB) December 03, 2013
Chatwing.com will launch a new chatroom that will entertain people who are interested in having geopolitical discussions. Geopolitics, based on cyberspace studies, is still one of the best topics that people have been discussing about. In Chatwing's geopolitical chat app, web users can talk about numerous things:

Influential politicians and political groups. There are hundreds of political groups present in different parts of the world. All of them have different agendas on how to create better governments and projects. Through Chatwing's chat software, users can share their thoughts about their favorite political groups. They can also have online debates regarding politicians.
Local and international projects. Projects are also imminent sources of discussions in the chatroom. Here, the users can scrutinize several projects and highlight the useful ones over those that are just wasting taxpayers' money. Chatwing Team believes that by discussing the political projects in the chatroom, people will become more aware of the inner workings of politics.
Geopolitical relations. Chatwing's geopolitical chat room also covers strategic thinking and the overall directives of countries. Different nationalities can pool their thoughts in the chatroom, creating better synergy and connection. The chatroom's social connectivity function can help boost this purpose—users can log in with social media accounts and expand their networks with ease. The widget also allows social sharing, thus users can share important conversations to their peers.
Chatwing.com will launch more topic-based chatrooms in the following months. These chatrooms will cover various interests, such as fashion, sports, business, finance, dating, and many more.
About Chatwing.com
Chatwing.com is a company that has brought innovation to the modern chat widget. Operating for more than five years now, Chatwing and its team of developers have dozens of ideas ready to be introduced to the public. The Chatwing chat app is an easy-to-use online tool that can help web users interact with each other and can also generate continuous traffic. Chatwing will always be a "freemium" application for everyone.