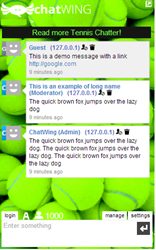 Cambridge, MA (PRWEB) December 06, 2013
After launching the Tumblr login feature and other platform improvements, Chatwing Research Team has observed a 35% spike in the influx of registered chatroom users. With this influx rate, Chatwing chat room team is certain that their simple chat app will continue helping more people in various online communities.
Another reason pointed out by Chatwing Team regarding the influx is the chat app's social networking capability. Recently, the developers have added a social sharing function—this function allows users to share their informational conversations in their social media accounts. This is useful for relaying a marketing message or advocacy to the public. Through the social sharing function, the website can also gain high rates of traffic.
Bloggers have also been using the chat app to gain more visitors within a limited time period. Since Chatwing widget is straightforward and easy to use, neophyte bloggers have started installing it in their websites. Chatwing Team has received many positive feedbacks from new bloggers. As an added report, Chatwing developers are certain that the large percentage of blogger registrations came from Wordpress and Xanga communities.
Chatwing's chat software premium services are also key factors in the large influx rate. Dedicated business professionals who wanted a stable online presence availed the premium services. Some of these professionals have stated that the premium features made their website chat experience more 'personal' and reliable than ever.
Chatwing.com website live chat is known for its dedication to the betterment of global connectivity. The company will launch different strategies to ensure that the goal is achieved within a finite time period.
About Chatwing.com
Chatwing.com is a company that has brought innovation to the modern chat widget. Operating for more than five years now, Chatwing and its team of developers have dozens of ideas ready to be introduced to the public. The Chatwing chat app is an easy-to-use online tool that can help web users interact with each other and can also generate continuous traffic. Chatwing will always be a "freemium" application for everyone.