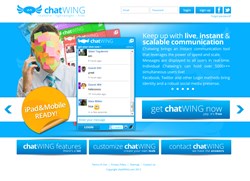 Los Angeles, CA (PRWEB) December 07, 2013
Chatwing Team is now putting their efforts in conceptualizing a new theme for their chat software: desktop mode. With desktop mode, users will be able to communicate with other people from their desktops—a handy feature that can make global connectivity easier. The initial creation of the desktop mode will begin after the launching of Android Chat Room.
"We are now thinking if the chat software will actually have a downloadable file," Says Mike Diamond, one of the prominent chat software developers for Chatwing. "Once downloaded and installed, this file will allow direct chatting from desktop. Think of it as a client that makes chatting easier as long as the computer or laptop has Internet connection. In this fast-paced world, we are seeing this as a big opportunity."
The developers are still figuring out if they will put the feature under the premium category. Over the weeks, users have been purchasing premium services—thus raising the popularity of the widget. Based on the research of the team, most of the premium users are professional bloggers who want to increase exposure rate for their websites. The premium users are always being observed by the company.
The desktop mode will also be helpful for freelancers who are using different types of programs while working. Instead of opening browsers, the desktop chat app will just send notifications of incoming messages. It is still tentative if the desktop widget will have a toolbar feature.
Chatwing.com website live chat advises all of its users to stay in touch through social media and active chatrooms. In this way, the users can gain more information and updates about the professional chat app.
About Chatwing.com
Chatwing.com is a company that has brought innovation to the modern chat widget. Operating for more than five years now, Chatwing and its team of developers have dozens of ideas ready to be introduced to the public. The Chatwing chat app is an easy-to-use online tool that can help web users interact with each other and can also generate continuous traffic. Chatwing will always be a "freemium" application for everyone.