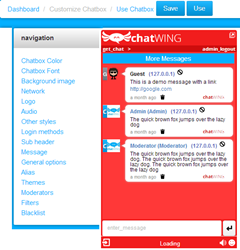 Dallas, TX (PRWEB) December 08, 2013
To help entrepreneurs in pushing their products to the greater marker, Chatwing.com has launched a chatroom that can spark different discussions. The chat software is a simple tool that can be embedded to websites and blogs. Despite being simple and straightforward, the Chatwing widget is known for its array of useful features and reliability.
Once installed to a website, entrepreneurs can create discussions about their products. They can start with thought-provoking questions or statements that can heighten the visitors' awareness regarding the products or services. If a solid connection is established, the entrepreneur can build subscriber groups over time. Based on the studies of Chatwing chat app, the website exposure brought by the widget can reach up to 70%, depending on content, management, and other connectivity factors.
The chatroom's connectivity boost is one of the main reasons why it is being used by some company bloggers as a customer support line. Customers can visit the blog and leave their remarks in the chatroom. Whenever a moderator is online, he can process those remarks and give product-related answers. Aside from exposing the product through the blog, the chatroom enhances the connectivity effect.
Social media takes up a large portion of the Chatwing tool. In a nutshell, it is a social networking package—an upgrade to any existing website or blog. Basically, visitors of the chat room can login using the following social methods: Facebook, Twitter, Google, Yahoo, and Tumblr. As months pass, Chatwing.com ensures that more login methods will be introduced.
Chatwing Live will keep upgrading the platform as much as possible. Through these upgrades, more users will become connected to larger horizons. This will increase the rate of information outlay in the cyberspace, one step at a time.
About Chatwing.com
Chatwing.com is a company that has brought innovation to the modern chat widget. Operating for more than five years now, Chatwing and its team of developers have dozens of ideas ready to be introduced to the public. The Chatwing chat app is an easy-to-use online tool that can help web users interact with each other and can also generate continuous traffic. Chatwing will always be a "freemium" application for everyone.