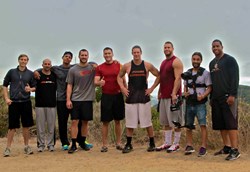 Working with Clay Matthews and Taylor Mays on set was a great experience, they've got personalities bigger than life and I think both of them will have opportunities for a successful career in front of the camera once football is done. - Steve Gatena
Hollywood, CA (PRWEB) November 26, 2013
The online commercial was created and produced by REP Interactive for Proactive Sports Performance and takes viewers on a motivational tour of the off season training program for some of the MLB and NFL's top athletes. The commercial, narrated by Ray Lewis features Cleveland Indians Nick Swisher, Green Bay Packers Clay Matthews, Cincinnati Bengals Taylor Mays, New York Jets Antonio Cromartie as well as a host of other world-class athletes. The engaging commercial showcases Ryan Capretta, the CEO and President of Proactive Sports Performance as he takes some of baseball and footballs biggest names through grueling workouts in Southern California.
REP Interactive won 11 Telly awards this year, with "What Are You Capable Of?" winning for the categories of Editing and Sound Design. The Telly Awards was founded in 1979 and is the premier award honoring outstanding local, regional, and cable TV commercials and programs, the finest video and film productions, and online commercials, video and films. Winners represent the best work of the most respected advertising agencies, production companies, television stations, cable operators, and corporate video departments in the world.
For its 34th season, The Telly Awards once again joined forces with YouTube to give the public the power to view and rate videos submitted as part of the People's Telly Awards. In addition to recognition from the Silver Telly Council, the Internet community helps decide the People's Telly Awards winners.
A prestigious judging panel of over 500 accomplished industry professionals, each a past winner of a Silver Telly and a member of The Silver Telly Council, judged the competition, upholding the historical standard of excellence that Telly represents.
"The Telly Awards has a mission to honor the very best in film and video," said Linda Day, Executive Director of the Telly Awards. "REP Interactive's accomplishment illustrates their creativity, skill, and dedication to their craft and serves as a testament to great film and video production."
"I had a blast getting to work with Ryan Capretta and his amazing staff. Not to mention working on a professional level with some of my close friends and former teammates from the 2009 USC Trojans Rose Bowl Championship Team. Working with Clay Matthews and Taylor Mays on set was a great experience, they've got personalities bigger than life and I think both of them will have opportunities for a successful career in front of the camera once football is done." - Steve Gatena, CEO of REP Interactive.
Fortune 500 Companies trust REP Interactive to produce award winning Video & Broadcast Media solutions. REP Interactive is the premiere video agency of choice for companies looking to create video assets that increase revenue, decrease expenses, and achieve communication goals.
To find out more about REP Interactive visit http://www.repinteractive.com and for more information on the Telly Awards visit their website at http://www.tellyawards.com.
About REP Interactive
REP Interactive is an award winning Video & Broadcast Media Agency. REP empowers businesses with video & broadcast media solutions that increase revenue, decrease expenses, and achieve communication goals. Since 2009, clients like Coldwell Banker, Marriott Hotels, and GE Healthcare have relied on REP Interactive for their ability to create innovative solutions to corporate communication problems.
Please contact Chris Carter, REP Interactive for inquiries: Chris (at) repinteractive (dot) com or call 888-789-1299.