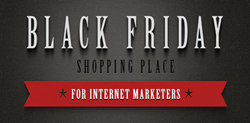 Link-Assistant.Com launched Black Friday marketplace exclusively designed to maximize the potential of this important shopping day for all internet marketing oriented businesses.
Minsk, Belarus (PRWEB) November 26, 2013
Link-Assistant.Com, the technology leader in SEO and SMM solutions, and the company behind SEO PowerSuite and BuzzBundle, announced the opening of a shopping platform targeted to all internet marketing things. The marketplace provides a single destination where vendors can showcase their offerings and find prospective customers on the international level. Customers, in turn, can find the best Black Friday deals on a wide range of internet marketing tools and services.
Link-Assistant.Com's Black Friday shopping place has the following categories:

SEO services;
SEO tools;
content creation services;
advertising/PR;
social media tools and services;
site management services;
internet marketing training and certification;
Web design;
and email marketing services.
About Link-Assistant.Com's Black Friday Marketplace
"The year's highest consumer-spending weekend is almost upon us, which means that the best time for boosting one's online sales has come," says Aleh Barysevich, Marketing Director at Link-Assistant.Com.
"However, this period can be quite a challenge for both internet marketers and their prospective customers. While the former have to break the back of a fierce online competition, the latter may get lost while looking for something really specific," continues Aleh.
"Today we have launched a specialized shopping platform that was exclusively designed to help internet marketers meet their prospective customers. This is the best shopping place to find all niche specials and promote one's biz to more than 500,000 of potential customers worldwide. I'm sure this platform will maximize the potential of this important shopping day for many internet marketing oriented businesses," sums up Link-Assistant.Com's Marketing Director.
Check out the best Black Friday offers related to internet marketing here.
Haven't submitted your Black Friday offer yet? Follow this link to join the largest specialized online marketing platform.
Keen on internet marketing software? Say hello to Link-Assistant.Com on Facebook fb.me/LinkAssistant, Twitter @LinkAssistant or Google Plus gplus.to/LinkAssistant.
About Link-Assistant.Com
Founded in 2005, Link-Assistant.Com develops a full range of cross-platform solutions for search engine optimization and social media management. The company's products are designed to help internet marketers research, manage, monitor and report on SEO and social media campaigns. A wide range of the software's top-notch features and fast, professional reports make it the choice of more than 500,000 users worldwide.