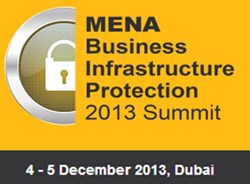 It's an IRN Summit.
(PRWEB UK) 26 November 2013
The opening day of the meeting will focus on cyber security and information management with speakers including the Head of information Security and Compliance from the Dubai World Trade Centre, the Chief of Security from BT Middle East and Africa, and the Senior Analyst and Acting Head of IT Security from the Government of Dubai speaking in the morning.
The discussion will move onto physical and operational security concerns for businesses in the MENA region. Expert speakers include a Business Continuity Specialist from Kuwait Oil Company, the Security Manager from Sanofi in Egypt, and the Security and Crisis Management Director from GE Oil & Gas, who will discuss the elements around preparing an effective counter terrorism threat response plan.
The keynote presentation on the morning of the second day will be given by Major Eng. Arif Mohammed Al Janahi from the Department of Protective Systems at Dubai Police who will speak on the latest surveillance and monitoring systems. The topics covered over the course of the second day will be around the concepts of crisis management, risk analysis and management, standardisation and strategic trade controls.
David Rubens from the Security Institute will join the summit and share insights with the audience on emerging threats and 21st Century challenges. The Director of Information Security from the National Bank of Egypt will speak on risk management for the banking sector, and the Head of Business Continuity from Standard Chartered Bank will then discuss the impact of 9/11 and the fundamentals of business continuity planning and disaster recovery. The Global Director of Security from Jebel Ali Port will discuss standardisation of security throughout DP world, amongst a host of other top speakers who will provide delegates with a fully rounded view of the fundamentals of critical infrastructure protection and resilience in the Middle East and North Africa over the course of the two days.
IRN will be closing registrations on Monday, 2nd December.
More information about the MENA Business Infrastructure Protection 2013 Summit is available online at http://www.businessprotectionsummit.com/.