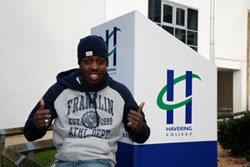 There are people who look at things and ask 'why?'. I say dream of things and ask 'why not?
Hornchurch, Greater London (PRWEB UK) 28 November 2013
Jamal, a self-made multi-millionaire whose empire has been valued at £8 million, was a hit with students when he shared his experiences and offered advice to the next generation of potential entrepreneurs.
The 23-year-old took to the stage in The Space at the Ardleigh Green Campus in Hornchurch, Greater London, to be interviewed by 16-year-old Jack Savage, a BTEC Level 3 Media student with ambitions to become the next Jonathan Ross.
Jamal's transformation from a teenager working in Top Shop to one of the biggest names in the music industry began when his parents bought him a video camera one Christmas which he used to upload films of a fox in his backyard to YouTube. He quickly progressed to filming friends rapping and singing and now SB.TV - named after his rapping name Smokey Barz - is close to receiving two million YouTube hits.
Jamal, an ambassador for The Prince's Trust and a friend of Sir Richard Branson, told students: "Chase your dreams, not the competition. There are people who look at things and ask 'why?'. I say dream of things and ask 'why not?'."
There followed a lively Q & A session when second year BTEC Music Technology student Idris Wint-Miller, 17, from Upminster, seized the moment to impress the media mogul by performing a rap song he has written.
Idris said: "It was amazing to have Jamal Edwards come to our college. I just decided to grab the opportunity and perform. I am excited that Jamal reacted by saying it sounded good and that he wants to hear more."
Students donated money to Children in Need in return for a copy of Jamal's best-selling book Self Belief: The Vision.
Jamal also spent time in the college's £6million Centre of Creative Arts, visiting the music tech studios.
Havering College Enterprise Hub co-ordinator Laura Trapp said: "Jamal's visit to Havering College went down a storm with our students. Global Entrepreneurship Week is all about encouraging the next generation of entrepreneurs to consider starting up their own businesses. As a college we are committed to harnessing and developing our students' talents and encouraging our students to follow their passions whatever they may be. Jamal is a perfect example of how dedication to one's passion can pay off."