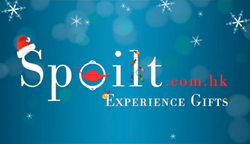 Hong Kong, HK (PRWEB) December 03, 2013
People in Hong Kong visit Christmas Fairs and Holiday Markets for new Christmas gift ideas. Spoilt is participating in two Hong Kong Christmas fairs and introducing the idea of experience gifts to Christmas gift shoppers in Hong Kong.
On Saturday, 30th November, head to the SweetP 2013 Christmas Marketplace for a delightful selection of gifts for the family! There will be vendors featuring baby apparel, handicrafts, accessories, and home décor, as well as wine and festive treats to feed your Christmas sweet tooth. SweetP will also be hosting a special lucky draw on the day.
Date and Time: 30th November 2013 (Saturday), 2:00 p.m. to 5:00p.m.
Venue: Indonesian Restaurant 1968 at The L Place, Central
The following week Spoilt will be at the Women in Finance Holiday Bazaar. The WiFA Holiday Bazaar is a one-stop-shop charitable Christmas bazaar, featuring some of Hong Kong's most exciting local businesses, artisans and designers. You will find designer jewellery and accessories, clothing, handmade crafts, greeting cards and more. While you browse, enjoy complimentary food and wine tastings – it's a recipe for a perfect evening. Donations go to local charity, KELY Support Group.
Date: 3rd December 2013 (Tuesday), 6.30 p.m. to 9.00 p.m.
Venue: Clifford Chance, 28th Floor, Jardine House, Central
Spoilt will be showcasing its amazing experiences gifts at these two Hong Kong Christmas fairs. Spoilt is an online retailer that specializes in unique experience gifts in Hong Kong. Apart from getting physical gifts for your loved ones, why not give them a memorable experience and make this Christmas special? From creative, pampered, gourmet, driving, water and outdoor gifts, there is something for everyone.
For more information about Spoilt's experience gifts, please visit the Spoilt website http://www.spoilt.com.hk.