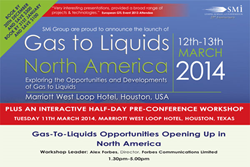 Very interesting presentations, provided a broad range of projects & technologies
Houston, USA (PRWEB UK) 26 November 2013
Following on from the success of Gas to Liquids events in Europe, and building on 16 years' experience working in the GTL industry, the SMi Group is delighted to announce its Gas to Liquids Conference comes to North America in March 2014.
The SMi Group is bringing to you the most respected speakers from companies that are currently developing GTL projects in North America. This is a unique opportunity to hear about GTL advances expressed from the resource holders as well as understanding key market challenges, economics, licensing and technology available.
Event's website: http://www.smi-online.co.uk/gtl-northamerica.com4.asp
Why attend this event:

Hear about the latest project developments, small and large scale
Understand GTL economics and how to apply them to your project
Discover what the banks need to see to secure your project finance
Discuss how the industry needs to develop in North America
Evaluate GTL vs LNG
Evaluate the recent technological advancements and commercial challenges
Keynote speakers include:
General. Wesley K. Clark (Ret.), Chairman, Energy Security Partners
Rick Smead, Natural Gas Expert, RBN Energy LLC
Mark Schnell, director new business development, Sasol North America
Raj Suri, President, EmberClear
Mitch Hindman, Licensing Manager, ExxonMobil
Zia Haq, Senior Analyst, U.S. Department of Energy
Tom Parsons,Business Development Manager, Conversion Technology Centre, BP
Ren Plastina, Managing Director, BNP Paribas Corporate and Investment Banking
John Bills, Managing Director, BNP Paribas Corporate and Investment Banking
Denmond Sigler, Partner, Baker Botts
Chris Faulkner, Chief Executive Officer, Breitiling Oil and Gas and many others.
In the event's download center you can find some exclusive complimentary content:

Series of four webinars with Alex Forbes (Forbes Communications), focusing on why there has been a surge of interest in GTL technology. Alex looks also at the business opportunities that this fascinating technology presents.
Interview with Iain Baxter, Business Development Director, CompactGTL
Interview with James Vaughan, General Director, OLTIN YO'L GTL
Interview with Jeff McDaniel, Commercial Director, Velocys
Interview with Malcolm Wells, Director, Malwell Corporate Projects
Video: Short highlights video for GTL 2013 London Conference
For more information or to register, go to the event's website http://www.smi-online.co.uk/gtl-northamerica.com4.asp or contact Andrew Gibbons via +44 (0) 207 827 5156 or e-mail agibbons(at)smi-online(dot)co.uk
Contact for media-partners: Julia Rotar, jrotar(at)smi-online(dot)co.uk