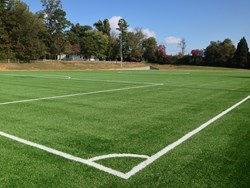 'It is a tremendous asset that we can offer to the community when we have a field that is essentially open every day.' - Jay Smelser, Farragut's Athletic and Park Coordinator
Farragut, Tennessee (PRWEB) December 03, 2013
SporTurf™ Vice President of Sales Darby McCamy announced today, the town of Farragut opened a new Synthetic Turf Field. The town of Farragut hired SporTurf™'s dealer PLAYRITE, LLC to install a 71,200 sq. ft. of SporTurf™'s synthetic turf athletic field at Mayor Bob Leonard Park for town residents to play soccer, lacrosse, and other sports and games year-round. "We are so proud to be part of this fantastic project, the residents from the town of Farragut will enjoy this beautiful facility for many years to come," said McCamy.
Tired of natural grass athletic fields that require extensive and expensive maintenance and are often unplayable due to bad weather and overuse, Jay Smelser, the town of Farragut's Athletic and Park Coordinator said, "It is a tremendous asset that we can offer to the community when we have a field that is essentially open every day."
The synthetic turf field at Mayor Bob Leonard Park was funded, in large part, by a grant from the Local Parks and Recreation Fund that is administered by the Recreational Educational Services Division of the Tennessee Department of Environment and Conservation.
The town of Farragut selected PLAYRITE after an extensive bidding and vetting process. Headquartered in Knoxville, PLAYRITE is a licensed general contractor and the premier sports and recreation construction company in Tennessee representing SporTurf™ and STI products. Town staff valued working with a local company that was equally invested in the success of the project. After the field was complete, Smelser declared that "PLAYRITE worked well with town staff and installed a field of which the entire town can be proud." Kyle Kaplan, PLAYRITE's CEO, responded that "the synthetic turf field represents a tremendous amount of hard work and a great partnership between the town of Farragut and PLAYRITE. All of us at PLAYRITE are honored to be a part of this project and excited to watch town residents enjoy the field for many years to come."
Mayor Bob Leonard Park's synthetic turf field is the first synthetic turf field open for public use in East Tennessee. As a result, the town is expecting that the field will be utilized for multiple hours nearly every day of the year. Because of the tremendous amount of use that the field will have, town staff requested for PLAYRITE to install SporTurf™ XP Pro Plus a strong, durable synthetic turf to withstand the continuous wear and tear.
About SporTurf™
Headquartered in Dalton, Georgia, SporTurf™ (http://www.SporTurf.com) supplies large and small customers alike with the widest variety of turf in the world. The company is a division of Controlled Products (http://www.turfmill.com), the leading ISO-9001 manufacturer of synthetic turf worldwide. SporTurf™ has engineered synthetic turf fields for baseball, soccer, football, lacrosse and hockey programs in 30 states and the D.C. area. They have also built fields from Russia to Brazil with notable International installations including the Haiti FIFA National Stadium and Eddy Coello Stadium in Ecuador. SporTurf™ utilizes Ten Cate PE fibers that are in over 5,000 International fields.
About PLAYRITE, LLC:
If you play on it, PLAYRITE builds it. PLAYRITE is the premier sports and recreation Construction Company in Tennessee. Founded in 1994, PLAYRITE is dedicated to building the highest quality athletic fields, athletic courts, running tracks, playgrounds, and putting greens in Tennessee with extensive experience and expertise as a licensed general contractor. Additionally, PLAYRITE is an STI dealer and the exclusive provider of Columbia Cascade Company playground equipment and site furnishings in Tennessee. http://www.playrite.com