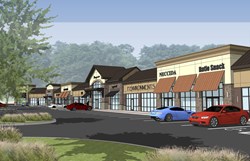 Lancaster, Pa. (PRWEB) November 26, 2013
High Construction Company was awarded a $2.9 million contract by Audubon Land Development to build more than 42,000 square feet of inline retail space for the Oaks Shopping Center in Montgomery County, Upper Providence Township, Oaks, Pa.
High Construction will complete construction of the shell retail space in March 2014.
The center is designed to induce a main-street feel, with many smaller and varied facades anchored by larger towers. Both fabric awnings and metal canopies will allow the tenants to have their own identity.
The architect for the shopping center is Bernardon Haber Holloway Architects of Kennett Square, Pa.
Located directly off the East and Westbound Oaks exits of 422, the shopping center will also include out parcels for gas, restaurants, and banking, putting the gross leasable area (GLA) at just over 63,000 square feet.
High Construction Company provides design-build, general contracting, construction management, and energy consulting services throughout the mid-Atlantic region of the United States. High Construction specializes in the commercial, industrial, education, hospitality, retail, health care, and multi-family residential markets. The family-owned business is headquartered in Lancaster, Pa., with offices in Williamsport, Pa., and Elmira, N.Y., and employs over 50 professionals. High Construction is an affiliate of High Real Estate Group LLC, which also includes Greenfield Architects Ltd., High Associates Ltd., High Investors Ltd., and High Hotels Ltd. For more information about High Construction, call (717) 291-2276 or visit http://www.HighConstruction.com.