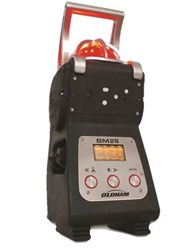 "The BM 25 represents one of our flagship products. We are thrilled to have it in our line" says Adam Markin, Oldham's CEO.
Arras, France. (PRWEB) November 27, 2013
Oldham is pleased to confirm that the popular multi-gas area monitor, the BM 25 will remain in its product range after the sale of Oldham to Industrial Safety Technologies (IST) on October 31, 2013. The BM 25 was originally designed by Oldham, has always been manufactured Oldham since its original launch, and will continue in the Oldham business under IST ownership.
Powered by a NiMH battery pack, the BM 25 offers up to 170 hours of continuous run time. Other standard features include STEL and TWA values, as well as a datalogging capacity of more than four months. Multiple units can be grouped using optional alarm transfer kits. This protects larger areas by transferring alarms from one BM 25 to the next. An intrinsically safe trickle charger is also available for long-term area monitoring in classified zones.
The BM 25 is a rugged, durable mobile monitoring system with global certifications, long run times, flexible signal options, and a wide array of applications. The device detects one to five gases for mobile or temporary work applications, team protection, area surveillance or places where fixed detection systems are not suitable.
The BM 25 has been sold in more than 60 countries and with ATEX and CSA certifications, will continue to be available globally from Oldham. Contact your local Oldham sales representative, or visit our website for more information on the BM 25.
About Oldham
For more than 100 years, Oldham has specialized in safety, gas and fire detection. Oldham is headquartered in Arras, France, employs hundreds of people globally and has operations in France, the United States, China and Germany. Oldham's mission is to be the best provider of fixed-point gas detection systems worldwide. It offers a wide range of application-driven products, expert advice, and the highest performance, quality and reliability in all transactions. For more information, visit http://www.oldhamgas.com.
About Industrial Safety Technologies, LLC
Industrial Safety Technologies (IST) is made up of a group of companies strongly committed to developing the newest innovations in industrial safety solutions. From ground breaking wireless technology to the first hazardous gas emergency training system, the IST group provides among the most advanced and reliable solutions to protect lives and workplaces around the world. Oldham, Detcon and Gas Measurement Instruments (GMI) provide IST with a solid foundation of fixed and portable gas detection solutions; DSA Detection specializes in the design, manufacture and distribution of consumables for leading brands of explosives and narcotics trace detectors (ETD); and Simtronics is a world class provider of sophisticated gas and flame detection systems for onshore and offshore industries. The five companies operate independently within the IST group.