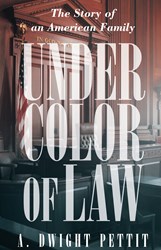 This is a young nation, where obstacles and entrenchment can easily be resurrected during the fog of complacency created by past accomplishments.
BALTIMORE (PRWEB) December 02, 2013
In the aftermath of the Zimmerman verdict, an August 2013 Gallup poll found that African Americans are now somewhat less satisfied with the way they are treated than at the beginning of the summer. "Under Color of Law" by A. Dwight Pettit conveys the frustration and resentment borne from unequal treatment, written by a direct legal descendent and beneficiary of the landmark Brown v. Board of Education decision, which set the federal precedent for school desegregation.
Following the Brown decision, Pettit's family underwent a series of extensive court battles to force their school district to allow black students. Their success gave Pettit access to a quality education that led him to Howard University's School of Law.
From there, he was employed at the Small Business Administration Office of General Counsel. In 1973, Pettit returned to Baltimore where he started a successful law practice. Pettit began working with presidential candidate Jimmy Carter on his successful presidential bid and subsequently rose to prominence in the Carter administration.
Pettit tells his story, set against a backdrop of the tumultuous and transformative late 20th century, in his new book "Under Color of Law." The book views the series of court cases that gave Pettit access to quality education, as well as the cases following those decisions when he rose to distinction in the legal community. Paramount among these was a national court case in which Pettit sued on behalf of his father, who had experienced employment discrimination as a result of his initiation of the school desegregation case.
More than 60 years later, Pettit is using the book to recognize how far the nation has come, and how far it still has to go.
"We must ensure that all are aware of the dangerous pitfalls and dark caverns that still exist in our society," Pettit says. "This is a young nation, where obstacles and entrenchment can easily be resurrected during the fog of complacency created by past accomplishments."
For more information, visit http://undercoloroflawbook.com/
"Under Color of Law"
By A. Dwight Pettir
ISBN: 978-1462056415
Available in softcover, hardcover, e-book
Available on Amazon, Barnes & Noble and iUniverse
About the author
A. Dwight Pettit earned his law degree from Howard Law School in 1970 and has handled many high-profile criminal and personal injury cases, including a case for his father that received national attention. Pettit practices law in Baltimore, Maryland, where he lives with his wife, Barbara.
# # #