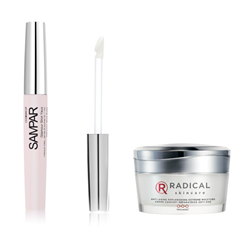 Having these internationally acclaimed beauty products available at the click of a button is hugely exciting.
Johannesburg (PRWEB) November 28, 2013
Ever wonder how some women manage to look amazing all the time even though they never seem to stop? Here's their fabulous little secret. Red Square has recently announced the addition of four of its most popular new international brands to the glamorous online beauty store http://www.redsquare.co.za.
"Having these internationally acclaimed beauty products available at the click of a button is hugely exciting," enthuses Red Square's Sharon Dickinson. "Looking sensational twenty four-seven has never been this simple".
Which brands are at the centre of all the excitement?
Best known for its cutting-edge cosmetic range proven to produce long-lasting, visible results, SAMPAR from Paris is found in the homes of smart women who like smart, intelligent products. It's mission? To awaken the sleeping beauty in every woman by reactivating her skin's vital functions.
Amongst the brand's most talked about products is SAMPAR Glamour Shot Eyes (R295). Watch as dark circles and fine lines disappear in just 60 seconds.
Considered to be one of the most powerful skincare ranges available, RADICAL Skincare's leading Trylacel technology works magic on all skin types and is loved by many Hollywood celebrities. Clinically proven and paraben free, it's the brand that women who want younger looking skin dream about.
RADICAL's Anti-Aging Replenishing Extreme Moisture (R1330) is just one of the range's incredible products that really gets results as it has been proven to decrease wrinkle depth by 50% after four weeks.
Celebrated dermatologist, Dr. BRANDT, gave women the world over good reason to smile when he brought out his own brand of clinically and scientifically superior anti-aging products. The brand's cutting-edge technology protects skin while at the same time making it healthier and more beautiful.
The hugely popular Pores No More Pore Refiner (R555) is part of the Dr. BRANDT range – sought after for its secret formula which hides and refines pores at the same time as removing excess oil.
GREENLAND is loved by women who know how to take care of themselves. The body and bath care range uses natural and organic ingredients to indulge. Protecting and caring for the skin while the mind takes leave on a sensual escape.
Must-haves in the GREENLAND range include its Passion Fruit Body Butter (R124) and the Lime-Vanilla Shower Gel (R170).
Aside from the incredible ease of being able to order online, Red Square is also offering complimentary delivery for orders over R350 as well as three free samples to try along with the order.
"When you start shopping at the Red Square Online Beauty Store you'll fall in love with the dazzling new world of fashion and beauty available at your fingertips," comments Dickinson. "It truly is the secret to having at all."
Ends
About Red Square
Red Square is South Africa's leading cosmetics specialty brand offering the widest range of national and international branded cosmetics in 39 stores and now online at http://www.redsquare.co.za.
Covering make-up, skincare, fragrances and accessories, Red Square includes famous brands such as Clinique, Clarins, Estee Lauder, L'Oreal, Revlon, Yardley and Coty and is constantly developing its catalogue as seen with the recent additions of GOSH, Nails Inc., Smashbox, Bobbi Brown & CK Colour. Customers can consult a beauty advisor at the Red Square treatment counter for a free skin analysis.
Red Square now offers a unique sampling programme for on-line customers that allows them to choose three free samples with every order. The website promises to be a hugely valuable tool with a wealth of product information and customer reviews. All orders over the value of R350 are delivered at no charge.
Customers can select from a wide choice of payment options including Edgars Cards, Jet Cards, Boardman's Cards, Legit Cards and any Thank U account cards, as well as all major credit cards. The Thank U loyalty programme offers additional customer benefits which can be earned when spending in-store or on-line.
Where can we get more information?
Call the Red Square Call Centre on 0800 203 925, visit http://www.redsquare.co.za or email redsquareinfo(at)edcon(dot)co.za.
Customer Service Call Centre Operating hours:
Monday to Friday 08h00 to 18h00
Saturday and Sunday 09h00 to 15h00
Public Holidays Closed
How do I apply for an account?

At any Red Square / Edgars store in the customer service department
SMS your name, surname, ID number, gross income and expenses to 49222
Click on the "apply for an account" link in the footer of the website and complete the online application form
About Edcon
Edcon is South Africa's largest non-food retailer, with a market share of the South African clothing and footwear (C&F) market nearly twice that of its nearest competitor, trading through a range of retail formats. The Group has grown from opening its first store in 1929, to trading in 1 301 stores (as at 29 June 2013) in South Africa, Botswana, Mozambique, Namibia, Swaziland, Lesotho, Zambia and Zimbabwe. Edcon has been recognised in national surveys as one of the top companies to work for in South Africa and continues to make significant progress in its equity and transformation goals.
Our retail businesses are structured under three divisions: Edgars division, including Edgars, Boardmans, Edgars Active, Edgars Shoe Gallery, Red Square and the Group's mono-branded stores such as Topshop Topman, Tom Tailor, Dune, Lucky, T.M. Lewin, Lipsy, Inglot, La Senza and Accessorize whose product is also available through Edgars stores, serves principally middle and upper income markets; Discount division including Jet, JetMart and Legit, serves principally middle to lower income markets; and CNA, the Group's stationery, books, games, movies, music, hi-tech electronics and mobile retailer. The Edcon Credit and financial services division provides credit and insurance products to the Group's customers.
With the launch of its "Thank U" loyalty programme, Edcon now has the largest retail customer database in South Africa which enables it to provide customers with relevant offers across its suite of retail and financial services products; this programme includes all mono-branded stores in South Africa.
For more information, please visit the Edcon website: http://www.edcon.co.za.
Issued by: Phatic Communications
Contact: Sarann Buckby
Cell: 083 381 0710
Email: sarann(at)phatic(dot)co.za
Issued on behalf of: Red Square
Contact: Sharon Dickinson